"Midsummer" coming mid-March
It's a new semester and the LMC Drama department is gearing up for the two big shows they will be producing this year.
Drama teacher Barbra Norris will be directing William Shakespeare's comedic play "A Midsummer Night's Dream." The story is about the adventures of four young Athenian lovers and a group of actors in a play-within-a-play, who are controlled and manipulated by the fairies. The production will be opening mid-March.
In April the LMC Drama Department will be producing an untitled hip-hop musical written by LMC student Federico Bartolo. It will be the first international hip-hop musical produced in the Bay Area.
"It's crazy," Bartolo explained when he first found out his musical was going to be performed on stage. "I was jumping for joy."
The musical is a story about two best friends and what happens when one falls for other's sister and the problems that arise from it.
Bartolo has learned from Shakespeare that the same stories are told over and over again. Every story is a cliché but what matters is the way you write a story.
"I am interested in what my vision on paper will look like to other people," said Bartolo.
He was inspired to write the musical last spring after attending Kennedy Center American College Theatre Festival (KCACTF), a national theatre program aimed at improving the quality of college theatre nationwide. He met the keynote speaker Daniel Banks, the founder and director of the Hip Hop Theatre Initiative that uses Hip Hop Theatre to promote youth self-expression and leadership training.
"You're seeing people find themselves in this department and if it wasn't for this department I wouldn't have thought of pursuing a degree in this field," said Bartolo.
Along with the shows they're performing this semester the Drama Department has other projects in store as well.
The New Play Festival held toward the end of the semester will be directed by
LMC Drama Department Chair Nick Garcia and includes short plays written by students and an improv show performed by the LMC drama club
Shenanigans.
In addition to their performance at the New Play Festival, Shenanigans will also be performing at rehabilitation and senior homes throughout the semester.
The department is currently trying to fundraise to attend KCACTF, where they will be able to develop their skills along with 18,000 other students from around the country.
"Our goal is to produce the best shows that we can and to develop students to the best of our ability," said Garcia.
They have started a Kickstarter and will be accepting donations that will help pay for the expenses needed for the weeklong conference.
"Support your fellow students at LMC," said Drama student Luna Garrison, "as much as you can through donations and good vibes."
Leave a Comment
About the Contributors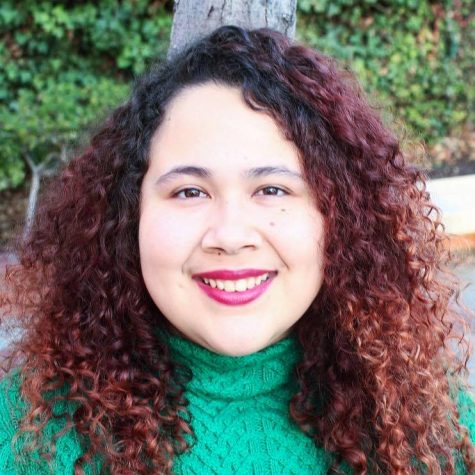 Beatriz Hernandez, Editor in Chief
My name is Beatriz and this is my last semester at LMC. I am a journalism major and I hope to transfer to UCLA.