The new normal – Day 12
Editor's note: "The new normal" is a continuing series that looks into how members of the Los Medanos College community are coping with a shelter-in-place order amid the COVID-19 pandemic.
It has been almost two weeks since the shelter-in-place order began in six Bay Area counties, and then turned into an order for the entire state. Students, staff, and faculty members are still trying to find their new normal during these uncertain times.
LMC counselors are learning how to deal with the transition from face-to-face appointments to online Zoom appointments with students.
Umoja counselor Faith Watkins is among those trying to adjust to the new change.
"It has definitely been an adjustment," said Watkins. "One of the reasons why I do what I do is because I know it's important to have human contact. Students on their academic journey need to actually have someone to go to if they're having a bad day, or if they have a question, or contemplating dropping a class, or changing their major. We're still available for them, just in a different way."
Watkins reassures students during meetings that she understands how hard balancing school and personal life can be, because she has also been balancing work and family now that she has been working from home.
"Both of my daughters are out of school, I have a four-year-old and a five-year-old," said Watkins. "It's just a family adjustment because I'm not just responsible for their well-being. My husband has to go to work, I have to go to work so we're fortunate and thankful that we have a job, but it's not like we're just able to be home with our kids and spend quality time. It's a lot of juggling."
Watkins and her husband both typically work outside of their homes, so in normal circumstances they can provide their undivided attention to their children and one another when they're home.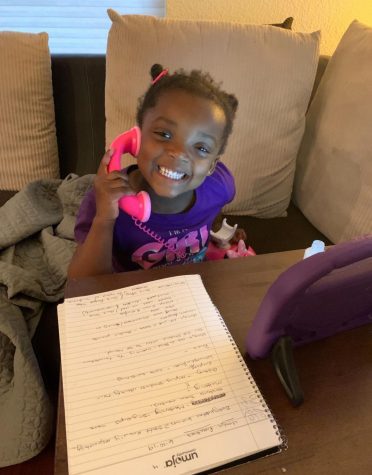 "I have to get a desk, a chair, and proper stuff to work from home because I don't even have that because I didn't make it a priority," said Watkins. "That's just my family dynamic. We like to leave work at work and be present at home."
Watkins continues to stay positive during the transition to Zoom and is trying to help her students in any way possible.
"It's not a bad transition. I think it's good to have this option so students will know if they're sick they can still Zoom into their appointments," said Watkins. "I actually enjoy face-to-face, I enjoy communicating with students and seeing them every day. Working remotely, it's not as personable, but Zoom is very helpful. It's just getting the students used to how it works"
While working from home, Watkins has made sure to continue being productive during this pandemic and lets students know she can't wait to welcome everyone back with hugs.
"I really miss working with students and seeing you guys," said Watkins. "I'm a hugger, I'm a high-fiver, I want you guys to know I'm there. I'm a nurturer, so it's a little hard to be like air-five through a screen."