Student creativity on display
Los Medanos College debuted its 2020 Student Art Exhibit Feb. 6. The event, which took place in the library near parking Lot A, attracted a lot of people for the award ceremony and opening.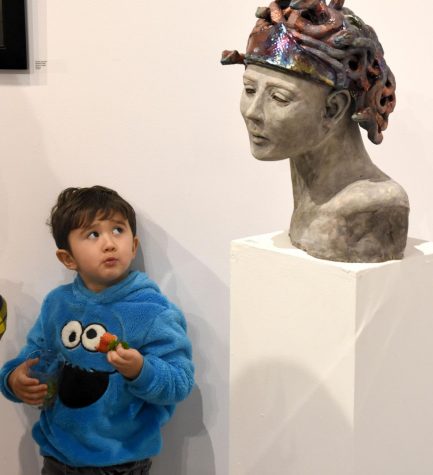 A representative of the Art Guild of the Delta attended the gallery opening to judge and award some of the artists who had featured pieces. Each artist was honored in different categories depending on their medium.
Award recipients included:
Tori Stevens won $300 for Digital Design.
Jennifer Quintos won $600 for 2-D Work and Best in Show.
Brandon Orozco won $300 for Photography.
Natalie Yoshimoto won $150 for 3-D Work.
Lindsay Bush won $150 for 3-D Work.
The attendees appreciated the pieces on display.
"Each one speaks one to me differently," said Paul Spinola, a father of one of the artists whose work was featured in the exhibit. He also said, as an artist himself, that he appreciated LMC's willingness to debut it's students' work.
"Never Give Up" by Keochia Allen, which utilized big letters made out of leaves to spell out the message "never give up" spanned across a whole wall in the exhibit and drew in a crowd.
"[The piece] encourages me," said Daryl Harper whose mother was also an artist and had a piece hanging in the gallery.
The large piece was an eye catcher as it was green leaves against a white background, noticeable the second you rounded the corner of the gallery.
"I like the diversity of color and the whole oil paint," said gallery attendee Daisy Naranjo about the painting "Lime" by Jennifer Quintos. Though not an artist himself, Naranjo said he understood how difficult water coloring is and respected its use in the piece.
"It stands out to me the most in the room," said Nick Szabo explaining why he considered the piece titled "All Play, No Work" by Adriana Scott his favorite piece.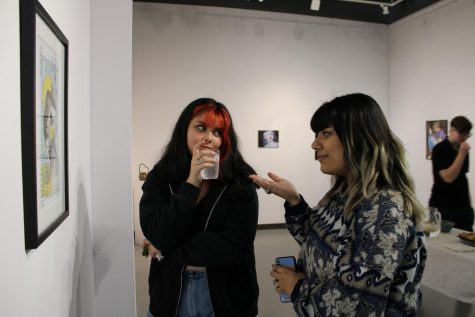 "It's nice to have student pieces up and I like to see the artwork and how different and unique they are," said Evelyn Leon, an art gallery assistant. "Everyone has their own styles, it's amazing what people can do with different mediums."
Visit the Los Medanos College Student Art Exhibit from Monday through Thursday from 12:30 to 6 p.m.