Bolton can't be contained
"Bolt Bolton vs. Outer Space," a fun musical written by LMC Dean of Student Success Dave Belman and his band, opened April 25 in the Los Medanos College Little Theater. It is about a star football player, Bolt Bolton, who embarks on a journey through space accompanied by reporter Kim Clayton and Dr. Sauerbraten to save the world from impending doom. He encounters many obstacles along the way: some sexy, some scary, most hilarious.
The entire musical, including the script and score, written by Dave Belman and his band members, Guillaume Fournier, Jan Lubbe, and Todd Brown. The band was originally named the trademark violating Craftmatic Adjustables, according to Fournier, it was a parody name.
Belman said a lawyer for the bed company of that name found out they were using it and sent them a cease and desist letter. So they decided to stop playing shows and instead wrote a musical.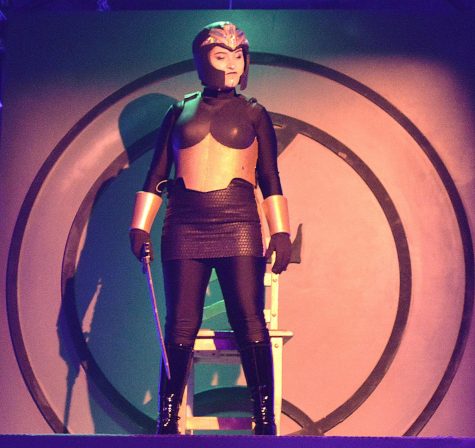 Belman said they started writing the musical nine years ago as a joke. They almost gave up on the idea, but after a conversation with LMC drama professor and play director Nick Garcia, they decided to put it into production. Even though the band formerly known as the Craftmatic Adjustables had created an entire musical and put it into production, they remained humble.
"Honestly, it's more about them," Belman said referring to the cast.
Fournier added that the musical was based on 1980s Flash Gordon as well as early '80s cheesy movies.
Opening night for the musical nearly sold out. Upon entering the theater, audience members were greeted with three men on stage in stoic poses, with laser lights scattered along their bodies and the stage. Classic rock music was playing, and the lights were off. It felt like a party in 1980s space. When the musical was over, audience members clapped and screamed, and some even gave standing ovations.
"I really enjoyed the musical," said Kyle Martinez adding that he liked how the writers and cast, "put a lot of character and corny jokes into the production."
Martinez attended the show in support of his sister Kayla Martinez, who played Princess Soltra. Actress Martinez referred to her fellow cast-members as like family and said, "It's so great to perform with my family on stage. This was very much stress free."
Many other members of the cast and crew said they felt the same way, and director Nick Garcia was no exception; "It felt like we created a family. It was just an amazing experience."
If you want th to find out if Bolt Bolton saves the day, you must purchase a ticket online at losmedanos.edu/drama/productions.aspx or at the door: $15 general admission, $12 for students and service members, and $10 high school students. Remaining shows will be May 3 and 6-7 p.m.