"A Seat At The Table" still imperative to Black culture
A year in review: For us, by her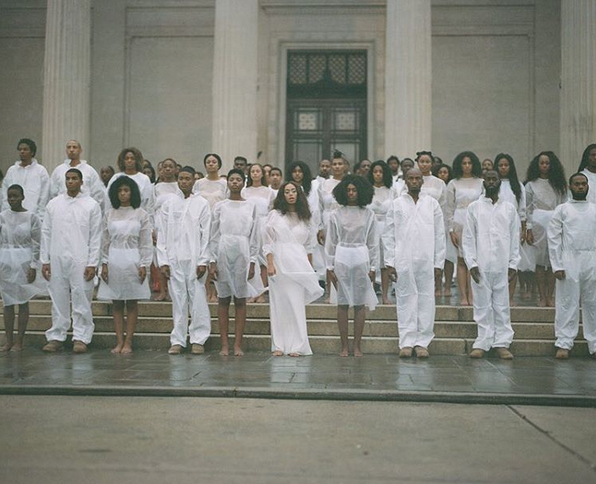 "When I felt afraid or when I felt like this record would be so different from my last, I would see or hear another story of a young Black person in America having their life taken away from them, having their freedom taken away," said singer-songwriter, Solange during the "A Seat With Us" conversation she had a year ago with her mother (Tina Knowles-Lawson) and writer Judnick Mayard about "A Seat At The Table."
"I think that 'A Seat at the Table' for me is an invitation to allow folks to pull up a chair, get very close and have these hard uncomfortable truths be shared."
Sept. 30, 2016, Solange brought cultural and soulful authenticity to the lyrics and production on her third studio album while taking listeners on her journey through self-discovery.
Inspirations that range from artists like Junie Morrison, her family, Louisiana and societal issues facing Black people in 21st century America — police brutality and systemic racism — are what Solange embodies throughout "A Seat At The Table."
There was a celebration across social media when this album released. People thanked Solange for gifting her artistry to us at a time when the community needed it the most.
"A Seat At The Table" became even more significant after the 2016 election results. Black people expressed on platforms like twitter, that going back to listen to the album was comforting and liberating — both properly sum up the albums aura.
When I first listened to "A Seat At The Table," I took in everything Solange was saying in each song — some even feling like the were made especially for me. The album made me gain a new sense of what empowerment really felt like.
It reminded me that no matter how many times people try to shut you down, to continue to speak up and never let anyone make you feel less for being loud and proud about who you are.
And in that first moment of listening to "A Seat At The Table," Solange made me feel even more proud to be a Black woman.
A year has passed and the album still has that same significance in my life.
Solange ignited a persistency in me to continue having much-needed conversations centered on race and accountability with people who find it uncomfortable.
But it's in each of the interludes featuring her mother, father Matthew Knowles and music mogul Master P that listeners receive in depth discussions about the Black experience.
In "Tina Taught Me" Tina Knowles-Lawson talks about the frustration regarding White people thinking that being pro-black is anti-white when at the end of the day, our carefree joy surrounding our Blackness has nothing to do with White feelings.
"Tina Taught Me" subject matter perfectly transitions into "Don't Touch My Hair."
This song is any Black woman's anthem.
Freely touching our hair whenever you choose to, asking us if it's "real" and talking about our hair in the same context as an animal are not only examples micro-aggressions, they're demeaning.
Throughout the years Black women have been told how to style our hair, how we should or shouldn't love it, what's professional and not professional, good vs. bad and so many other rules society has tried to box us into in an attempt to force Eurocentric standards of beauty onto us.
Our hair makes up so much of who we are and Solange gave Black women an asylum in the form of "Don't Touch My Hair," to embrace it: "You know this hair is my shit/Rode the ride, I gave it time/But this here is mine."
It's the 13th track, "F.U.B.U.," that is truly the essence of "A Seat At The Table."
During her live performances, she has made it routine to specifically sing this song to her Black fans. Solange amplifies that empowerment she wanted to create with the songs title by hopping off the stage to be in that moment with them.
Watching videos of her having those moments with her fans is inspiring, but seeing it all happen in person is powerful.
Witnessing Solange's ethereal pneuma live is indescribable.
It was liberating to see a large number of young Black people make their way to the front of the barricaded stage at Outside Lands, just to gaze in awe of her beauty and carefree spirit up close.
Taking in the moment, seeing people who look like me excitedly embrace that liberated feeling that comes with singing along to songs like "F.U.B.U." made it even more clear to how unifying and essential "A Seat At The Table" has been, and will continue to be, for Black people.