Showtime with Heamsai Latu
Heamasi Latu's football journey has him featured in the 2018 Pacifc 7 All-conference team, currently leading the state in tackles and was named Diablo Athletic Leave defensive MVP while a senior at Clayton Valley Charter Highschool.
Back in 2013, Latu was blocked from behind during a football game and he dislocated his hip. It required him to get surgery and it put him out of commission from playing football for a year.
Despite that, he still chose to make a return to the game.
"I decided that I love the game too much and wanted to play still," said Latu. "It [my hip] doesn't bother me now but it was a huge obstacle I had to overcome."
His love for the game shows through the leadership and presence on the field as a linebacker and one of the team captains. Being a natural born leader, Latu was perfect for the role.
"I was in love with being linebacker because it's a position that requires to lead everyone else on the defense and I feel that I fit that spot perfectly," said Latu.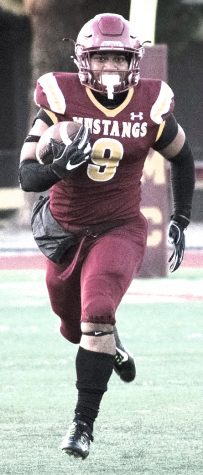 The Clayton Valley football program has gone undefeated in league play for more than 7 seasons, so, being in the spotlight is nothing new to Latu .
"Masi comes from a good program in Clayton Valley and knows what it takes to be successful every year," said Chris Shipe, head coach of Los Medanos College's football team. "He has brought a tremendous amount of knowledge from CV and has become a huge leader for us."
Not only did Latu bring his knowledge from the Ugly Eagles, he also brought his favorite memories from there too. His favorite memory in football was his senior season at Clayton Valley where the team went 5-0 in league play and made it to the Northern California Selection open division final against De La Salle where Latu and his team won 28-0.
"I also got team defensive MVP. Those accomplishments will always hold a special spot in my heart," said Latu.
While his accomplishments on the field are something to be proud of, he is also on track to graduate with above a 3.0 GPA.
The sophomore has played 12 seasons of football so far. While he is currently playing his last season for LMC, that does not mean the journey ends there.
"I definitely feel he will be playing at a four year school this time next year," said Shipe. "He's worked very hard for this season, someone will be getting a great individual."
While his football journey at Los Medanos may be coming to an end, Latu will make sure you remember him and all of his achievements.