LMC soccer scores opening day win
It may only be one game into the year but the Los Medanos College women's soccer team is ahead of many of its predecessors.
In at least five years, LMC has not been able to capture a victory on opening day. But that streak was snapped Friday afternoon. The Mustangs started the 2019 campaign by defeating yearly Southern California opponent Bakersfield College 1-0.
"We are way ahead of last year," said head coach Zach Sullivan. "It's a lot of new players but we played well together. Tactically we created a lot of chances, especially at the end."
The tables turned from last season, as LMC was on the receiving end of a 3-0 defeat vs. Bakersfield.
And It didn't take long for the reigning Bay Valley Conference champions to let everyone know — they are for real.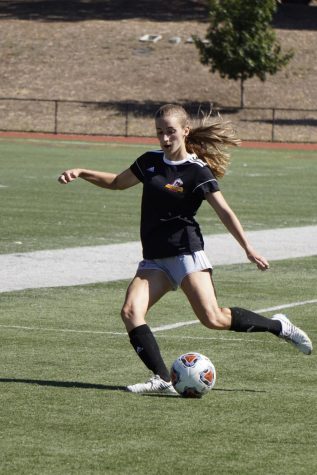 In the third minute, LMC scored its first goal of the season. Freshman Litzy Ramirez Cuevas was alert, intercepting a pass from Bakersfield. She dribbled five yards before connecting with freshman Anissa Gomez, who scored the only goal of the game.
Just like the arrival of the Popeyes chicken sandwich, business was boomin' for the Stangs.
"So far playing at a JuCo [junior college] level has been great," said Gomez. "It's more intense and upbeat than high school for sure, but it's only been one game and I'm excited to see what the rest of the season has in store for us."
The young Mustang team relied heavily on its defense vs. Bakersfield. Returners Holly Gallagher and Marymar Mejia provided the veteran experience, but newcomer Isabel Dumapit adapted quickly to the JuCo style of play.
Freshman goalkeeper Alissa Caburnay recorded three saves and earned her first college clean sheet.
Despite starting with a victory, just like the team, the season is young and there is plenty of room for improvement.
Sullivan elaborated that the team is going to work on its fitness and over time will develop better chemistry, resulting in a much neater style of play.
"Hoping to peak in November is the goal," said Sullivan. "We're going to make our mistakes and struggle at points now, but I think as long we're ready to make a playoff run and we're fit, then that's most important."