Merced holds off the Mustangs to one run
With another game of preparation on the books, the Los Medanos College baseball team has sorted itself out before Bay Valley Conference starts.
LMC was narrowly edged by Merced Junior College in a 2-1 loss where errors ultimately came at a high cost.
Los Medanos came into the game on the back of a 5-3 win over Diablo Valley College.
The Stangs' broke the deadlock in the bottom of the third inning with a run from Taylor Maldonado. Maldonado walked but ran in from second thanks to a Conner Capps basehit that allowed him to record the RBI.
"I got a good hit there driving in a run but we still took a loss so there's always stuff to work on, always stuff to get better at." said Capps.
For Maldonado, that was the catcher's third run in two games. Against DVC he recorded a game high three RBIs.
"On Saturday (Against DVC) there was a great performance on my hand. I got the fuel going, I fueled the fire and we were trying to get there but we couldn't get there today" said Maldonado "He sets up a preseason schedule for competition and to prepare us for not only conference but playoffs." Maldonado also added that although the team has faced many losses during preseason, it helped them to improve as a team.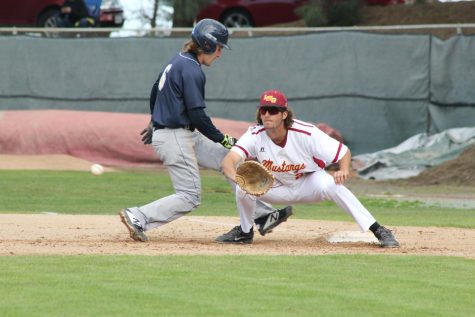 With a runner on second, Merced's Sam Burns double was enough to earn himself a RBI, making the runs level at 1-1 but the Blue Devils' offensive force was not finished there.
Burns' stole third base to set up Clayton Hall to drive in a run. Hall reached first on Error which allowed Burns to score on an unearned run.
Los Medanos didn't look like they were going to threaten the Blue Devils' lead, until the eighth inning that is.
Zach Ellsworth hit for a single but managed to steal second base like a thief at a bank.
Vince Lontz stepped up at bat with Milan Mijanovic and Ellsworth at first and second base respectively.
Lontz reached first but it expensed getting a runner to third base. It looked like the opportunity record a run was bankrupted but not all hope was lost yet. CJ Sneath was at bat with runners on first and third but ultimately flew out.
"A day like today was tough when the results aren't there but one thing we knew coming in is we were gonna use a lot of different guys to sort some things out and that a lot of freshman were gonna play." said head coach Anthony D'Albora. "The more those guys [freshman players] can relax starting next against CCC the better prepared we are going to be to win the first one."
Los Medanos started Bay Valley Conference play March. 5 away to Contra Costa College.