Softball gears up
Stangs looking forward to a promising year
Student-athletes seem to get their title all wrong when their respected season comes into play. A handful tend to put the term 'athlete' ahead of 'student'. For Coach Rognlien, head coach of the Los Medanos Softball team, the term student is emphasized before the term athlete.
Don't let their practices fool you on the depth of their team. The numbers may be small during practices, but there is good reason for that. Some players have scheduling issues and Coach Rognlien understands that players have lives outside of the diamond.
"We set our priorities based on education first, work second, family third and softball fourth," said Rognlien. "We allow them to have extra time for classwork and tests. If they have to miss a practice, all they have to do is text me. We monitor their grades throughout the grading period."
The Los Medanos Softball team have a promising year filled with key talented players returning and a handful of new upcomers. Last year the team only had 12 members, but this year we can look forward to a healthier team of 16 members. Some big names to keep an eye out for this season are sophomore Shaylyne Siino, freshman Jazmyn "Jazzy" Hanley and freshman Alexis Coleman.
Siino returns this season with acclamations to her name. Siino was named 2018 Bay Valley Conference Player of the Year, the first ever LMC softball player to win the award. Last season, Siino had a .438 batting average, with six doubles, two home runs and 14 runs batted in.
Siino also was a runner-up Bay Valley Conference Pitcher of the Year award. Her Earned Run Average was below four runs per game and was 2nd in the conference for most strikeouts.
Hanley, according to Rognlien, is an outstanding third basemen from NorthGate high school with tremendous power. In Rognlien's eyes, she appears to be a "real strong" prospect this season.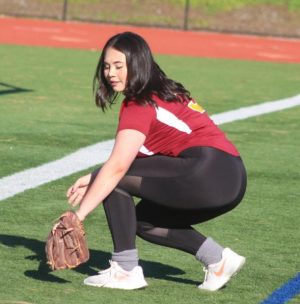 Coleman is currently in a position battle Hailey Vollbrecht for shortstop. Rognlien states that both are battling it out extremely hard and that both Coleman and Vollbrecht exceptional at the position.
Rognlien also adds that the group of players he has currently are the hardest working bunch in the five years of coaching Los Medanos softball.
"I see us being very competitive this year and we hope our fans come out and see some of the softball these girls are playing," said Rognlien.