Big Baller Misunderstood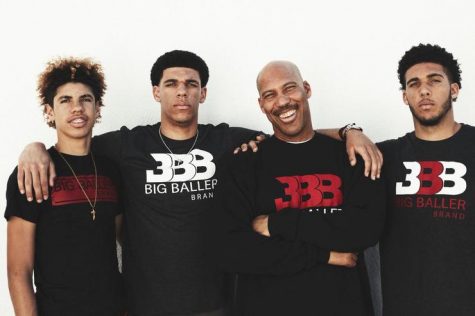 You don't have to be an avid sports fan to have heard about the Ball brothers and their controversial father LaVar. This basketball family burst onto the scene when oldest brother Lonzo started to make headlines as a freshman at UCLA during the 2016-17 season. Lonzo has two younger brothers, LiAngelo and LaMelo, both of whom can carry their own on the basketball court, and are committed to play college ball at UCLA.
As Lonzo quickly shot up the draft boards during his first college season, so did the notoriety of his dad. LaVar has made many head scratching statements throughout 2017, many of which have cast him as the evil father lurking in the background appearing to thrive off his son's popularity and skill. Some have even gone as far to label him as the next Kris Jenner, the famous Kardashian empire patriarch.
LaVar did not shy away from saying that back in his day he would easily beat Michael Jordan. Yes, he's talking the about being better than the best basketball player of all time. He also made the bold statement that his oldest son Lonzo will be better than Steph Curry. To be fair maybe he will be some day, but many wondered, as did I, why put so much pressure on your sons?
Why write a check that you yourself will never have to worry about cashing? He even turned away every big-name shoe and apparel company that wanted to sign his oldest son a to a major rookie shoe deal. When it came down to it, every outlandish comment the Ball family leader made it fell heavy on the shoulders of the three young basketball players.
I was originally one of those anti LaVar Ball people, who just wished he'd stay out of the spotlight like all the other sports dads. Mainly because I'm a die-hard UCLA Bruin fan and Los Angeles Lakers fan. I didn't want to see a good kid have his career cut short because his dad was too involved. So many wondered, why is this man doing what he's doing?
It wasn't until their new reality show "Ball in the Family" which airs on Facebook weekly, did I realize I may have had this husband and father of three pegged wrong the whole time.
We can see a new side of LaVar, not a quiet or tamer side but a new side nonetheless. We see a father that loves his boys more than anything in the world. Also, we see what he calls "the master plan" unfolding with every thought-out brick being laid.
He reveals that everything he has done up to now was calculated. From turning down the shoe juggernauts of Nike, Adidas and Reebok which lead the way for his family ran sports apparel company Big Baller Brand to make a splash into the industry with only his son as their athlete endorser.
If you watch one episode of "Ball in the Family" it will be clear to you that his controversy on television was a persona. In real life, he is a smart businessman who loves his family and friends more than anyone can. He wants to create a legacy for his family and instill it in his boys so they can reach their full potential.
As we watch the Ball brothers interact with their father it's easy to see they have bought in on what he's selling. All three are polite young men who have never been in trouble and just focus on sports and the family business.
Whether you agree or disagree with the attention grabbing tactics he has used in the past to grab the spotlight I feel is irrelevant. He's just a father that wants to see his sons reach the goal, which was set since day one. And with the talent the Ball family has, on and off the court it doesn't appear they will be going anywhere anytime soon.