LMC Brentwood Center opens amid damage from flood
Due to unexpected circumstances, there is partial closure for the new campus.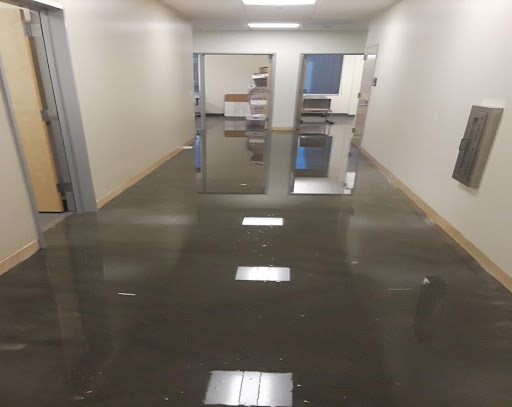 Los Medanos College's new Brentwood Center campus at Pioneer Center officially opened its doors to students this fall. But the long-awaited opening, which was expected to be celebratory, was subdued by a recent flood that caused more than a quarter of a million dollars in damage to the brand-new facility and led to closing parts of the campus.
Carlos Montoya, LMC's vice president of Business and Administrative Services, said the cause of the flooding was water intrusion from the irrigation system of an adjacent housing subdivision and the cost of repair is estimated to be between $250,000 and $350,000.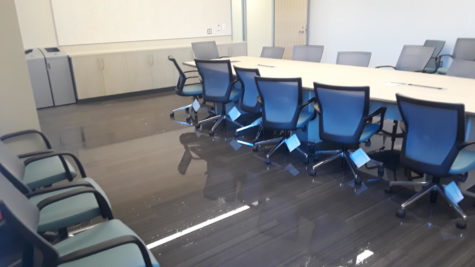 He said repairs are underway and should be completed in October. They include water remediation, as well as drywall repair and paint, replacement of flooring and carpet tiles, and the purchase and installation of damaged casework, furniture, and IT equipment.
"We are letting our insurance company handle the cost recovery while we focus on restoring the facility so we can begin providing the comprehensive support services the center was designed for," he said.
Despite the flood, Student Life hosted a Mustang Day opening event the first week of classes to welcome students to the new facility. Booths provided information and treats were available, including Jamba Juice, school supplies and hand sanitizer. 
The new center is home to classrooms, a library and a variety of student services and, according to the LMC website, it was designed to enable students to pursue associate's degrees, complete GE requirements, and take both transfer and career and technical courses.
Dr. Tanisha Maxwell, vice president of Student Services, explained how the new facility will benefit students.
"We have doubled our classroom space in comparison to our previous facility, expanded the student study spaces both indoors and outdoors and increased administrative spaces for Student Services so that more departments can have a designated space to serve students," she said.
"
When I started my position at LMC five years ago, the plans were already being made. So, it's been a long time coming."
— Roseann Erwin
Brentwood Librarian Roseann Erwin said the new campus is an exciting and important step for LMC.
"When I started my position at LMC five years ago, the plans were already being made. So, it's been a long time coming," she said. "The old center was really bustling, so there is a lot of demand for an LMC location in the Brentwood area. And for the Library, our new space will enable us to provide equitable services by having a visible and consistent presence,"
She said that in addition to reserve textbooks, there will be a book and periodical collection so students can browse and check out books for research or leisure reading.
"Brentwood has never had a browsable book collection before, so we're really excited to provide that," she added.
According to Maxwell, here is when and where students can take advantage of services at the center:
Student Services — In person in BRT 405 by appointment Mondays, 10 a.m.-3 p.m. and Thursdays, 12 p.m.-5 p.m. Remotely: Mondays-Thursdays, 9 a.m.- 6 p.m.

Math Lab — In person in BRT 410 Monday-Thursday 8 a.m.-7:15 p.m., Friday 8:45-2 p.m. Remotely: Tuesday- Thursday: 9:30 a.m.-12:30 pm; 3:30 p.m.-7:15 p.m.

Center for Academic Support — Available through Zoom and in person by appointment in BRT 420.

Library — The Library, which was impacted by the flood, is temporarily located in BRT 420. Hours are Tuesdays, noon-4 p.m., Wednesdays, 3-6 p.m. and Thursdays, 2-6 p.m.

Bookstore — It is expected to open in this fall but has no official opening date. It is in room BRT 414 for the time being. 
The new Brentwood Center is located at 1351 Pioneer Square.