Graduation held online
As a result of the COVID-19 pandemic, Los Medanos College held its first online graduation ceremony for 2020 graduates May 22, from 3 to 4:45 p.m.
Pre-recorded and posted on the LMC website for all to watch was an hour and 43 minute long video, featuring a countdown to graduation, various student and faculty speakers and a slideshow of all student graduates.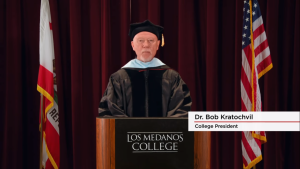 LMC President Bob Kratochvil began the graduation ceremony with a short speech, congratulating all graduates on their accomplishments during their time at LMC and wishing them well in the future.
"You have worked incredibly hard, hurdled obstacles, exhibited discipline, fortitude and dedication, and you never gave up on yourself or lost sight of your goals," said Kratochvil. "On behalf of all of us at Los Medanos College, I applaud you for reaching this tremendous milestone and look forward to your continued success."
Shortly after his opening speech, President Kratochvil introduced student and Sergeant Patricia Granados to lead the Pledge of Allegiance. Granados was also featured as the second student speaker during the ceremony, demonstrating her gratitude and pride in LMC.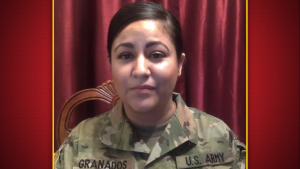 "We knew what we wanted to achieve, and that was to graduate. We earned this day. It was not handed to us and it wasn't easy. But hey, life isn't supposed to be easy- what fun would that be?" said Granados during her speech.
Prior to the slideshow of all LMC graduates and their accomplishments, the Contra Costa Community College Governing Board and Interim Chancellor Gene Huff expressed their pride in all graduating students as well.
"This last semester has been difficult for everyone, but your success gives us confidence that you are ready to handle the challenges you will face in the future," he wrote.
After various speeches from student and staff speakers, a continuous slideshow of all graduating students and their accomplishments played with music in the background.
The website also features the slideshow of all student graduates, a message board from the family and friends of graduates and student quotes looking toward the future.
"You are the author of your life, use your gift of knowledge and words for positive change for all. Rise up and be heard, fight for those that can't or won't fight for a better life and society. Be kind and thoughtful. Make your time here on earth count!" said graduating student Angela Hayward.
As the virtual ceremony came to a close, President Kratochvil left on a positive note by providing all graduating and transfer students a message of hope for their future.
"What an incredible group of students, and a remarkable array of accomplishments," said Kratochvil. "Graduates, embrace all of the knowledge and experience you have gained at Los Medanos College. And most of all, always remember that you are capable of more than you ever imagined."