Fall semester to be online
Fate of future semesters in talks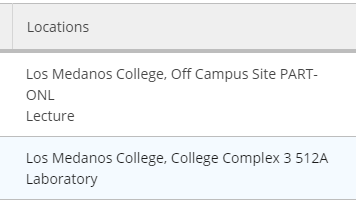 The fall 2020 semester will continue online amid the COVID-19 pandemic. According to Interim Vice President of Instruction Nancy Ybarra, some courses may have the option to be hybrid or partially face-to-face, depending on the course and health official recommendations as the year comes to an end.
According to Chancellor Eugene Huff, the plan for the fall is as follows:
All classes will be offered as online or hybrid courses. Final decisions about the

achievability of

some hard-to-convert classes to be delivered in-person will come this summer, especially in cases where external regulations may apply. Work is already well underway in each Instructional department to make determinations about delivery method by course.

Expecting guidance to change in the coming months, leadership will continue consulting on how and when to transition student, instructional and operational support functions back to more traditional in-person delivery in a safe manner.

Learning from what K-12 schools are doing with Gov. Gavin Newsom's operational direction.
The decision was reached after consultation with the academic senate presidents, college and district leadership, and union representatives according to Los Medanos College President Bob Kratochvil.
This decision came before the California Community College Chancellor's office decided to announce this for all CA community colleges. According to Huff, this decision was made by and for the Contra Costa Community College District tentatively April 28 and was finalized April 30.
"The California State University system has given direction that they expect to be online come fall," said Community College Chancellor Eloy Oakley. "Most, if not all, of the UC campuses will be online for almost all, if not most of their instruction. [Calif. community colleges] will follow, I'm sure, in that path."
But Oakley is concerned about how long this will affect higher education and expressed his concerns in a teleconference held May 12.
"What I'm telling our colleges is 'yes, our horizon is fall right now, but we need to look beyond that horizon. We need to be prepared to be online in some form or fashion for probably the rest of [a students] academic experience, not only community college, but for four-year university,'" said Oakley.
LMC and the district are beginning to have conversations about the spring 2021 semester but are awaiting "appropriate guidance from public health agencies and the State" before making decisions, according to Kratochvil who added that he "suspect[s] that the planning will be for at least the coming year, if not more."
Huff echoed Kratochvil's point, "We're mostly focused on fall 2020 at the moment, with the recognition that we could be facing similar conditions for spring 2021. Candidly, planning is very difficult right now."