Instructor shows strong work ethic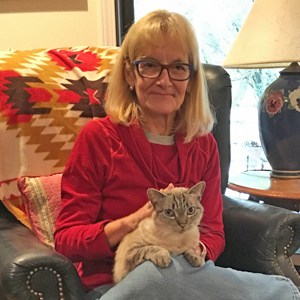 Learning any other language is a lot of work but it takes a good teacher to make it fun and interesting. In American Sign Language, Professor Joan Germany-Williams is among the best.
The start of her interest in teaching began in middle school at M.H. Katzenbach School for the Deaf in West Trenton, New Jersey. She had learned ASL at an early age and was occasionally asked to teach her geography and history classes. She was also approached by the mother of a fellow student who asked if she would teach her son ASL. Later in high school she was given the ability to teach typing to students one on one.
All these experiences, and the words of incentive of her grandfather "Deaf hearing doesn't matter. No excuse work hard" — gave her the motivation to shoot for her dream of becoming a college professor in Anthropology or Archaeology.
Williams explained through sign language what sparked her interest in anthropology and archaeology.
"I grew up with the antiques and lived in an old farmhouse, which was built around 1770s, in a historical town four generations in the house in Bergen County, New Jersey" she said. "That maybe influenced my interest in anthropology/archeology, and how people/cultures were and are."
After graduating from a high school for the deaf she went mainstream and attended Trenton State College and then transferred to California State University, Hayward (now East Bay) where she completed her bachelor's degree in anthropology. After that she enrolled at JFK University and earned a master's, in art.
But despite her background in anthropology and art, Williams started teaching ASL after being recommended to two institutions looking for sign language instructors: Patten University in Oakland C.A and Drew Preparation School in San Francisco. That was nearly 30 years ago when she was a teacher's aid in Oakland. She eventually wound up teaching in the Contra Costa Community College District at Diablo Valley and Los Medanos colleges.
Her LMC students give Williams high praise for her ability both to connect with them and control a classroom.
"Of all the professors I have had in college Joan Williams, is knowledgeable, considerate, fair and honest," said student Barbara Brooks, "yet possesses the ability to be stern and demand respect from her students, with just a look."
All teachers experience challenges and Williams admitted hers involved the hearing students talking in class.
"Most of the time trying to tell the students stop talking in class that was the number one problem," she said adding, "that was an issue in the past when we instituted the use of earplugs in class."
Her idea improved things, and the no-talking rule is still being followed.
One of Williams' greatest gifts is the ability to empathize with those who struggle, and her students appreciate that about her.
"She is a very good teacher," said Yahaira Paz. "She will help you if you are struggling to understand. Like in every class, you have to put in the work to learn the language."
Her experience teaching have helped her to want to mentor others, which she does today as part of the Faculty Advising and Mentoring Program sponsored through LMC. She has mentored many students over the years and looks forward to choosing others for whom she sees potential. From earning these accomplishments and the many students she's mentored she wishes to pass on inspiring ideals such which are, "you can do it, and set goals for yourself." She adds saying, "that if you set goals for yourself and organize them into a list, mark them off at completion. It's a great way to see yourself accomplish your goals."