LMC shelters Bay Point evacuees
The LMC Gym hosted evacuees Thursday after a brushfire threatened a natural gas line in Baypoint. The Red Cross oversaw the creation and maintenance of the shelter, providing roughly 85 people with food, water and cots set up in the gym atop blue tarps.
Most of those taking shelter were lying down trying to get some rest, but that did not stop a few children from playing Basketball at the rear of the gym.
Los Medanos College President Bob Kratochvil explained the use of the gym as a shelter.
"The district has an agreement with the Red Cross," said Kratochvil.
He explained that a class that will take place in the gym will probably not be cancelled, and emphasized the minimal impact the shelter and the evacuees will have on LMC students' routines. However the class was ultimately canceled, and, as of press time, the shelter is still occupied.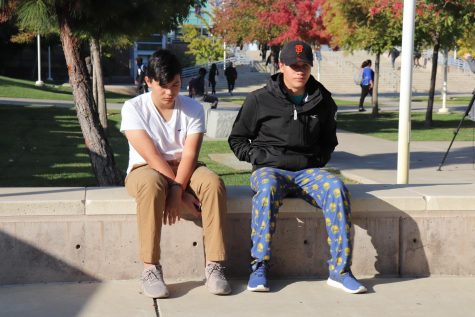 One of those displaced was Derek Jay, a Baypoint resident returning to the shelter.
"About 10:15 p.m. I was watching tv and a police officer knocked on the door," said Jay, who then explained he had spent the night in his car at the Bay Point Bart station before coming to the shelter.
Jay had briefly left as his mother was feeling sick and returned with medicine for her. When asked where he got the medicine, Jay said, "I was not allowed back, I drove my car around the back and jumped the fence."
The transformation of the gym into a shelter is something that has happened previously. The space last being used as a shelter from the Atlas fire in October of 2017.
Shelter Manager Mike Gaertner explained that the evacuation zone was between a mile and a half, a mile around the threatened gas line. "A number of people spent the night in their cars at Baypoint Bart station," said Gaertner.
He continued to stress that people need to think about planning for the event of an evacuation, "If there's an emergency and you only have five minutes what are you going to take?"
A person faced with this very question was Augustine Marhx, who arrived with child in tow both dressed in pajamas.
"I was up and told to evacuate," said Marhx visibly annoyed. "We had to go back to get our dog and everything we needed."
While it is a large operation occupying the gym, campus police Lieutenant Chad Wehrmeister was complimentary of the Red Cross' ability to execute the operation.
"The Red Cross is such a well oiled machine, that there isn't much for us to do," said Wehrmeister. He continued to say that the campus police were contacted early Thursday morning and have been assisting with distribution of food and are operating in a support capacity for the Red Cross.