Comedy to stage at LMC
Comic relief awaits the Los Medanos College community when "Lone Star" and "Laundry and Bourbon," directed by Barbara M. Norris, opens in LMC's Little Theater Tuesday, Oct. 12 for a two-week run. These two-in-one comedic acts, with "Lone Star" heading up the duo, constitute a full evening of theater.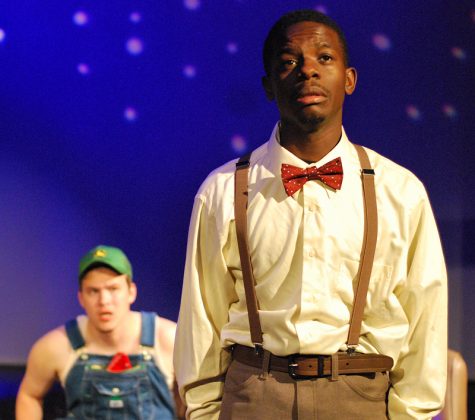 "Lone Star," which takes place in the cluttered backyard of a small-town Texas bar, is centered on a Vietnam War vet as he deals with day-to-day issues two years after retuning home.
"You'd better wear two pairs of socks, because you are going to laugh the first pair off," joked Austin Trenholm a seasoned actor who has performed four major roles on campus. Trenholm plays Ray in the first of the two acts.
"Lone Star" and "Laundry and Bourbon" are separate plays but, according to Norris in an earlier interview, "they don't have to be performed together, but function best when you do them together."
"Laundry and Bourbon" adds flavor to "Lone Star" as the audience gets another dose of good ole Southern comfort in the next act as the women in the lives of the men in "Lone Star" take center stage bringing wit and humor to entertain the theater-goers.
"If you love to laugh and
love a good Southern classic these two plays will fill the bill," said actor Elysse Green. "Be prepared to have a good time."
Green is cast in "Laundry and Bourbon" as the best friend of Elizabeth, played by Katie Garcia. Hattie is a fun-loving, outgoing young woman who loves her best friend.
"Personal relationships with cast members has made it so much easier to connect in the play and we just have so much fun participating in this production," said Green.
This is Green's fourth performance in a major production since being at LMC and she is an accomplished playwright and wrote "Grey" an original play that debuted in the "New Play Festival" last spring. In addition, she wrote a portion of the play "Project Serenity" that made its debut in 2016. Green is looking forward to graduating Spring 2018 and pursuing a musical theater major at a four-year university.
Opening night is Oct. 12 at 7:30 p.m. and continues Oct. 13,14,16,19,23. At 7:30 p.m. with a Matinee Wednesday Oct. 18 at 10 a.m. $15 general admission for the evening shows and $12 with student ID/Military ID and $10 for middle school students with ID the Matinee is $7.00. Tickets can be purchased online up to one hour before show time or at the door.
For more information visit www.losmedanos.edu/drama/productions.asp