Author retells paris story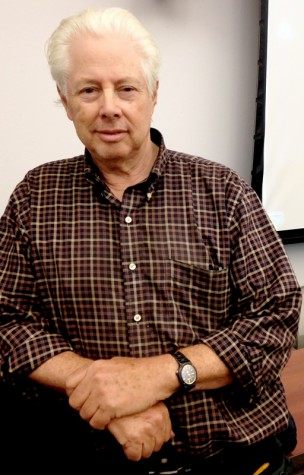 "If you want to learn about something, write a book about it," said Leonard Pitt, author of Walks Through Lost Paris, who spoke to Los Medanos College students Tuesday.
Originally planning on studying mime, Pitt arrived in Paris in 1963 where he lived for seven years before returning to Berkeley, California. Years later, in 1996, Pitt was browsing a bookstore in Berkeley where he picked up a book with the words 'Paris' and 'Marville' written across the front cover.
The book was full of photographs taken in 19th Century Paris, but none of them looked like what Pitt remembered seeing during his seven years there.
"Immediately, I Xeroxed these photos and I went to Paris. I walked around looking, thinking where did he take this picture? It says this corner and I'm at the corner," said Pitt.
It was not until after some research Pitt realized, all the photographs from the book were taken shortly before George Eugene Haussmann had taken his pickaxe to Paris. Haussmann was appointed by French Emperor Napoleon III to carry out the enormous task of renovating the streets of Paris, known as gentrification.
"He made modern Paris. It was the biggest project of its kind in the history of the world at that time," said Pitt, about what is now commonly called Haussmann's renovation of Paris.
Much of what Pitt spoke of in his lecture, 'Paris Transforming- The beauty and horror of urban reconstruction' was also covered in his books. Slide after slide demonstrated just how much Paris changed under Haussmann.
"He tore down 20,000 buildings and built 40,000 in their place and 300,000 people were evicted," said Pitt.
Although he was disgruntled at some of the work done by Haussmann, Pitt could not help but to express astonishment at the feat. All of the gentrification that Paris underwent was done without the use of power tools.
"Imagine this work when there was no electricity, everything was by hand — 60,000 workers labored day and night," said Pitt.
While Pitt's lecture was full of facts, it was very lively and captivated the audience of students and professors alike.
"I thought the subject he was talking about was really interesting. He seemed like a guy who had a story he just needed to tell," said Christian Ruiz, a French student who attended the lecture.
Before Pitt wrote his four books, he performed lectures similar to this one for years any place he could.
"He used to go around to salons and other places and give lectures before he wrote his books. The books are newer," said Jennifer Saito, who teaches a class on modernist Paris at LMC. "I have known him for over 20 years. I met him while I was living in a crazy art colony in Berkeley — he was friends with my roommates."
As the lecture came to a close, Pitt explained his personal views on gentrification.
"You know, gentrification is not 100 percent bad. It's only 98 percent bad," said Pitt, whose tune had begun to change. "So, you see this shirt I'm wearing, you know how old this shirt is? It's 20 years old and you know why I keep it so well? It was my dad's shirt. My brother said, 'Lenny, get rid of it' just because it's old."
For more information about Pitt's life, lectures, books and career, visit his website: www.leonardpitt.com.
Leave a Comment