Academic competition a success
9th annual contest lures a big crowd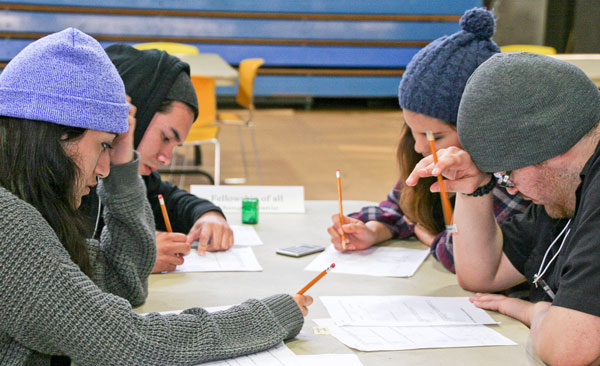 At 8 a.m., the cool, crisp morning didn't seem to affect the large turnout at the 9th Annual Academic Competition Saturday, April 12.
Many students lined up and gathered with their teammates, while some competitors, still sleepy eyed, straggled along the green, white and yellow balloon-lined path that led to the LMC Gymnasium.
Spirits were high as competitors chatted, searched for missing team members and engaged in friendly banter to get themselves pumped up for the long day ahead.
In the end, the team Fine Fellows Nathaniel Combs, Daniel Herink, Mohammed Rafae, Tim Combs won the $3,000 scholarship prize to split.
Four other teams placed: Second place and $2,000 went to Shmerrherrp: Jason Wu, Nazifa Fazli, Zohai Rahimi, Ayesha Khan
Third place and $1,000 went to The Nation of Thizzlam: Miguel Mauricio, Jose Alvarez, Dylan Young, Kevin Orozco
Fourth place and $600 went to Family Affair: Elizabeth Agramont-Justiniano, Gabriela Agramont-Justiniano, Sergio Agramont-Justiniano, Sebastian Agramont-Justiniano
Fifth place and $400 went to Fighting Mongooses: Robin Ririe III, Eric Cabral, Evan Mullicone, Rachel Dunzmeiler
Twenty-two teams of four signed up to compete, 18 participated, compared to just eight last year.
"I don't know why it's more this year," said Astronomy Professor and test creator Scott Cabral, who has been involved with the competition and every planning meeting held since the competition started nine years ago.
"I was worried there would not be enough publicity," he added. He thinks the brightly colored logos on the posters hung all over campus had something to do with the increase in team sign ups.
LeNay Triplett of team Beautiful Minds said she joined the competition for the "mental challenge," while teammate Vivien Lewis entered because she will be transferring soon and wanted to put on her application that she had competed in an academic competition.
In contrast, Lucas Camacho said he joined the competition for the money.
"It is a great event because we give away $7,000 in scholarships." The top five finishing teams place, said Cabral.
But he didn't want the competitors to focus on winning the money and instead he said he hoped they would enjoy the contest.
"It's really fun and the students have a really good time participating," said Demetria Lawrence, student life coordinator. Sometimes the students dress in costumes and they like being able to create weird names for their teams.
To participate in the contest and be successful, students should have been at LMC for one year, or two full semesters and have at least a B average, said Cabral. He added that students don't have to be a genius.
The event was organized and kept on a tight schedule. Set-up for the event began at 7:45 a.m., said LMCAS Student Senator Gary Walker, who handled team registration and took on the role of game show host between the four 60-minute rounds.
After registration, the teams headed into the gym to help themselves to juice, coffee, muffins and bagels, before dispersing to tables that donned plaques, which displayed the creative names of each team — Something Awesome and The Fighting Mongooses, for example.
After a quick breakfast, Cabral gave instructions and the contest began. Each test consisted of a different single-subject area; English, Math, science and Social Science.
"They are given a test and a scantron and they get to work together for about an hour," said interim Student Life coordinator Jamila Stewart.
As soon as the clock started, the room went from laughter and fun to silence and all business. These competitors were there to win.
The day was long and grueling, but between tests the students were given twenty minute breaks to snack, compare answers and socialize with the competitors. During one of the breaks Walker got a few competitors to put on a show — one student beat boxed, one rapped an Eminem song and another sang.
The LMCAS, which provided the contestants with Chipotle for lunch, enjoyed hosting the event, said Lawrence adding, "They also help proctor the test and kind of plan it."
After the last test was finished the teams enjoyed an ice cream social and a raffle while the results were being calculated. And after much anticipation, the Fine Fellows, who had each dressed for the occasion in suits and ties, were announced as the winners.
Mohammed Rafae, member of MESA team Fine Fellows, said they wanted to win for bragging rights because there were four other MESA teams they were hoping to beat, especially Team Africa.
The students were given evaluation forms so they could give feedback on the competition and make suggestions for next year, but Walker said what he would like to see for next year is a competition between LMC, CCC and DVC.
Leave a Comment