New learning system for LMC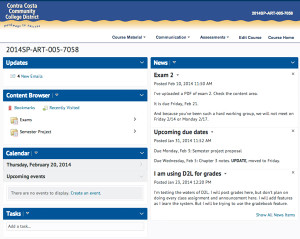 Los Medanos College has transitioned its Learning Management System (LMS) from Blackboard to Desire2Learn (D2L). The change was implemented in Fall 2013 giving students and faculty access to the new instructional learning system for the Spring 2014 semester.
"The district made a decision to move to a single LMS. Prior to D2L, colleges within the district were using different systems, which was more costly and inefficient in serving our students. A district wide task force was formed to evaluate and select a single provider, which resulted in the selection and implementation of Desire-to-Learn," said Vice President of Los Medanos College Kevin Horan.
"I think it has a lot of potential," said LMC English Professor JoAnn Hobbs. Hobbs was in London during The Northern California Study Abroad Consortium Fall 2013 and missed the initial switch from Blackboard to D2L. Hobbs states that D2L will take some getting used and she plans to learn alongside her students. Hobbs now uses D2L regularly.
LMC student Tim Carson said, "I never used Blackboard but D2L is pretty easy to navigate. I use it to keep track of my class assignments."
D2L system training is available for students. Contact Debbie Wilson, Department Chair of Travel Department to schedule an appointment at [email protected].
Dr. Laurie Huffman, a Spanish language professor at LMC stated, "The new management system design of D2L is a fresh look at instructional desired learning and links assessment based instructions for student success." Huffman stated that the new management system would help provide students a better understanding of what instructors are expecting from them.
LMC professors are required to update their classes to the new managing system but some of the updates are done automatically. Although not all classes have been updated according to one LMC student.
"My art class is not available on D2L yet. I fished around the new system to get a feel for it and noticed not all my classes were online," said LMC student Maria Vasquez. "Other than that I think it's pretty easy to use. I like that some of my teachers post things that were assigned that day. If I ever miss a class I can keep updated on what I missed."
According to www.desire2learn.com, D2L is used at more than 650 institutions in 20 different countries around the world.
Leave a Comment