Study space available; library offers you helpful resources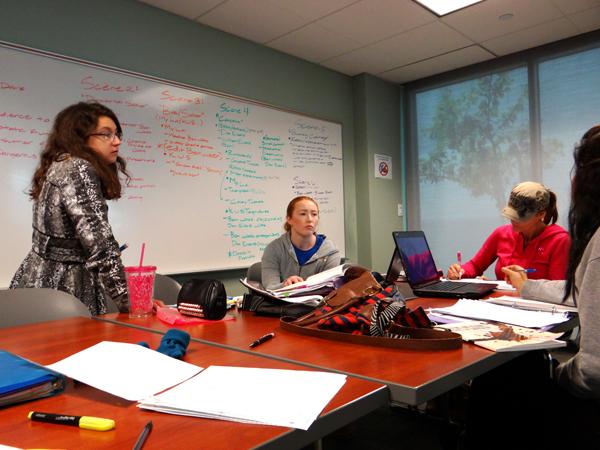 Students of every major use the Los Medanos College Library but many may not know all of the services it has to offer.
Process Technology Student Daniel Justo-Sanchez said he mainly uses the library for completing homework but is curious about "how to get one of those groups or conference rooms." In case anyone else is wondering the same thing, they are available to students when you make an appointment with Office of Instruction Supervisor Eileen Valenzuela at [email protected] or Senior Administrative Assistant Sandi Schmidt at [email protected].
Also available to students are individual and group library orientations, which are facilitated by one of the LMC Librarians and they are held regularly in the computer lab on the second floor of the library. To schedule an orientation, you can e-mail Instruction Librarian Christina Goff at [email protected] or stop by the main floor of the library.
"We usually do them with English classes but not all classes have them," said Technical Services Librarian Christine Park, who added that it's a lot easier for students to use the library effectively when they have attended the library orientations.
"We rolled out Google Hangout consultations – we soft launched the program last April," said Park. The online consultations are done face to face with one of the library staff members on Google's webcam option.
Now the librarians are trying to put more emphasis on online consultations so students know that the library is keeping up with technological advances.
Webcam and screen share consultations, which are also available on the Brentwood campus, are available to students who may not have the time to come to campus. According to the library website, you must have a Google+ account, access to a webcam and a microphone.
Also, there is a link you can click on which will take you to a page where you can make an appointment for a consultation.
"We get the most questions about printing," said Electronic and Technical Services Librarian Kim Wentworth, who has worked at LMC since 2009.
Park added that a lot of student inquiries don't involve librarian expertise.
"We get a lot of child development, nursing, recording arts and music students," said Wentworth, who added that she said cheerfully informs them there is an online database for every major.
"It's hard to find good information from a blog," said Wentworth adding that using the search option on the library website gives you more sources that are relevant to your research.
The library website offers a wide range of books including e-books. In addition to the print materials and electronic resources there is also a way to live-stream movies and videos. There are also advanced search settings that help you find source materials specific to the subject you're researching.
"Occasionally I check out books in print," said Justo-Sanchez.
Using the online site is a better way of navigating the library "rather than just wandering around the library," said Park.
Although there are all of these options, Wentworth said, "the best resource is to just ask a Librarian."
Leave a Comment