Police reformation begins with better education
On March 23, 2020, 32 shots were fired when three officers dressed in plain clothes forced themselves into the home of Breonna Taylor. Six of those shots hit Taylor and killed her.
The excessive use of force by these three police officers has created a vital debate considering police brutality and racism in the United States, which has led to various protests demanding police departments and politicians to take action on reforming or defunding police departments.
Los Medanos College Administration of Justice professor Anthony Hailey has written a proposal to reform the entire law enforcement apparatus within the United States. His approach is not exclusive to community colleges however, it starts here and builds up similar to a building blocks approach.
"So my idea was to fix the education system locally. After completing that, I make sure that I record data that analyzes and actually looks at the problem and tells us whether we solve it or not and then move on to a larger scale," said Hailey.
To reform law enforcement Hailey detected the problem between communities, especially communities of color and policing which was a major problem with education.
"I think we're allowing people that aren't qualified to do the job of policing. I think mainly we haven't defined what policing really is. I don't think people really understand what policing really is," said Hailey. "So my idea was to correct that locally and then expand that statewide and then start a crusade to push it nationally."
According to Hailey's proposal, "only 80% of the nation's 18,000 law enforcement agencies do not require any college credit at all even though we entrust police with the ultimate discretion to end human life."
"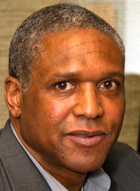 "I am dedicated to and convinced of education's ability to lead social change, and the need for change in the relationship between alienated young people of color and the power elites.
— Anthony Hailey
Furthermore, Hailey asserts police training programs were created with biases, although not intentional biases, rather misunderstandings. These programs were created before taking into consideration minorities such as Latin X, African American, Native American, and Asian communities. Therefore, they need to be looked at and adjusted properly to the present times.
"I teach a course called Community and the Justice System that deals with racial disparities and biases in criminal justice. And that is something that's not required for most police officers to succeed," said Hailey. "As a matter of fact President Trump has proposed that we get rid of all racial sensitivity training for all federal employees and includes federal police officers. So there is an attempt to go backwards on it. We need to look at all the courses. We need to make it culturally relevant and timely to what's going on today."
Additionally, Hailey believes everyone should have a seat at the table when creating these courses. By creating a course from a eurocentric point of view instead of a universal point of view, Hailey claims we believe in moral universalism rather than thinking about what is moral relevance. Therefore, we have to include people's culture where they stand and accept that there are some differences in our society.
Hailey explained that society as a whole does not understand what law enforcement is and there's a disconnect between the police and the community.
TV shows like "Law and Order" influence perspectives of police officers however, yet 75% of police work are addressing social calls such as keeping cats out of trees and giving directions to help people. About 10% of their job consists of enforcing the law however, most of the time police are essentially social workers.
Does the culture of police brutality seen both in entertainment media and reported on the news throughout the nation exist at LMC?
"The negative police culture exists everywhere. I think there's certain officers that can resist that culture but I think it's ingrained in police culture. It's ingrained in the way we've trained our police officers," said Hailey. "I wouldn't say that LMC has any individual officers or we have any large problems, but that doesn't mean we shouldn't address the overall issue before it becomes a big problem and the biggest problem is the hiring of unqualified people and so I wouldn't specifically point out LMC as being a problem, but it's a potential problem because it is part of the culture."
Hailey points out in his proposal that white supremacy is as common today as it has been in any time since the 1950s. Research shows high school educated white men are the demographic most likely to hold white supremacist attitudes. Even with this knowledge, in order to become an entry-level police officer in California applicants need only to be between the age of 21 and 40 with a high school diploma, a driver's license, be in good health, have a clean criminal record, and hold a Peace Officer's Standards and Training Certificate.
The requirements are similar for those seeking to obtain a police service job at LMC. Applicants should have a high school diploma and GED, valid California driver's license and completion of the California P.O.S.T. approved Basic Police Academy or California P.O.S.T. Basic Certificate.
Because of this, Hailey said sheriff's departments should increase the educational requirements for entry level jobs in their departments to a minimum of an associate's degree. He is devoted to seeing positive change in law enforcement, and his plan includes changes within Administration of Justice programs.
"I am dedicated to and convinced of education's ability to lead social change, and the need for change in the relationship between alienated young people of color and the power elites," wrote Hailey in his plan.