New athletic building opened
The Kinesiology and Athletic Complex has officially opened and is ready for students and staff to use at the Los Medanos College Pittsburg campus.
While the amenities and features within the building are meant for student athletes and students enrolled in KNACT-110, the state-of-the-art fitness center that's full of great equipment adds more unity to the entire campus as all the Mustangs can utilize the amenities inside.
"We've had athletic directors from all over California come over to see," said contractor Kevin Little. "We walked them through and they were just wide eyed."
The new building is a one story installation located across the pathway from the Math Building and just behind the current gym.
It contains multiple locker rooms for sports teams, individual offices for coaches, two classrooms and excellent equipment for students to use at their leisure for multiple forms of working out.
"There's a really awesome team room with a TV in it that we can watch films on," said volleyball player Sophia Corini. "The gym beforehand wasn't so great and now we have a state-of-the-art one so that will definitely help."
The building has been part of the overall project, starting back in August 2017, to build a new Student Union center, as well as this revamped sports building.
"This is probably one of the prettiest additions to a campus in the whole college district," said Little.
Coaches and student athletes alike were all very excited about the new space designated to them.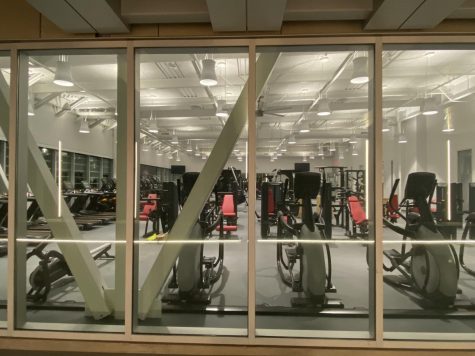 "I think it's really nice, it's the nicest gym I've seen for a school. It'll help with our endurance and speed, to keep in shape," said Alicia Cadenas an LMC soccer player.
Not only does this new building allow every team to have the same materials as one another, but it also allows players to develop a stronger sense of community.
"Finally the [sports teams] are all together, which should be good for the department," said Little.
In the gym alone, there were four televisions in each corner, 16 speakers that blended in with lights hanging around the room, multiple fans and HVAC-supplies along with free weights, barbells, pulley machines, stair machines and a few bench presses.
Another addition to this building is the separate weight room that has multi-function racks for many types of workout that are pneumatic powered.
One more room has mondo rubber flooring for an extra spring in your step when doing yoga, ballet or dance. The room also features its own television, floor to ceiling mirrors, marker board, fan, microphone for the instructor to use, four speakers, kettlebells, dumbbells, yoga mats and yoga balls as well as a storage room for all of this equipment to be locked up.
"I'm mad because I'm done. It's super nice, I'm super impressed with all of the machines in there," said volleyball player Emily Sobolik. "Anything you can think of is really available to us athletes.
The project for the two new buildings on our campus cost roughly "Sixty-three million dollars in bonds" according to Carlos Montoya.
The expensive equipment is meant to last a while and not be replaced every year in order to save on funds in the long run.
"The idea is durability. You can obviously buy cheaper stuff, but you want it to last," said Little.
The building is now ready for use, but staff will not be done moving in until the beginning of next semester when both new additions to the campus will be open for the public to see.
"It's definitely a great opportunity for not just our athletes, but the students themselves," said Chris Shipe head football coach. "The state of the art building is definitely going to be a huge opportunity for student athletes to take advantage of here on campus."
** This story was edited from saying "Kinesiology and Athletic Center" to "Kinesiology and Athletic Complex"