A fabulous fiesta
Puente and United By Dreamers clubs host Cinco De Mayo celebration.
The Puente and the United By Dreams Clubs put on a fabulous fiesta in honor of Cinco de Mayo on Monday in the outdoor quad of the Pittsburg campus. Heard from at least a quarter of a mile away, loud Banda, Bachata, and Reggaeton music played, drawing crowds of students to the event.
Puente Club President, Bianca Bautista and Vice President Tony Arias immediately drew attendees to their club's table with a friendly smile and made them feel like they were a part of the club. Selling pizza and fruta, many were attracted to their table to purchase these treats.
Bautista informed the crowd that Puente is a nationwide program found at many colleges where there are underrepresented students. Despite common belief, Puente is actually for all minority students, not just Hispanics. The program is designed to assist students attempting to transfer to a four-year college and come back to help out the community in ways that are beneficial to minorities.
"We are here to break barriers within our minority groups. Everyone treats each other like a familia," said Bautista.
At another table, Jonathan Trejo offered some insight into the United by Dreams Club. Trejo, who is in his second semester as president, said that while these events are typically hectic to organize, the turnouts are always worth it.
The United by Dreams Club focuses on providing help with studies and emotional support to undocumented immigrants with their radiating sense of love, unity, and community.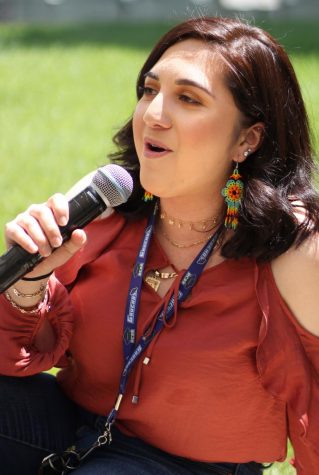 "Overall, we want to build a community of dreamers. We want to help everyone feel recognized," said Trejo. The club also strives to offer legal assistance with their extensive knowledge of DACA policies.
The Cinco de Mayo Celebration was an opportunity for clubs to both fundraise and recruit members by spreading awareness about their activities and initiatives. Current club members and newcomers sang and danced to new and old tunes representing their Hispanic heritage and many were captivated by the sense of joy emitted.  
If you would like to get involved with Puente, contact Bautista at [email protected] or attend club meetings Mondays from 11 a.m. to noon in L-105. The club is open to all.
If you would like to get involved in the United by Dreams club, you can contact Trejo at [email protected] or attend club meetings Mondays from 2:30 to 3:30 p.m. in CC-236.
Both clubs look forward to gaining new members in the fall, as well as putting on more events to raise awareness and promote unity for minority students.