LMC clubs help promote community
Club day provides an opportunity to fundraise.
"There's more to college than just school," said Honors Club Treasurer Lauren Ortanez at LMC's Spring Club Day Wednesday, when groups on campus came together to promote their clubs and recruit members as well as raise funds.
"The cool thing about Club Day is that students here at Los Medanos College would be able to find clubs that they are interested in. Whatever their hobbies are or their interests, we probably have the club for that," said John Nguyen, Student Life coordinator.
Many clubs offered sugary treats to those who stopped by the table to learn about the group. Others sold treats to raise funds for their clubs.
The 17 clubs in attendance clearly put a lot of effort to the decoration of their tables. It is not  surprising given there was a cash prize for which club could create the best table. The top three of the competition each won a cash prize.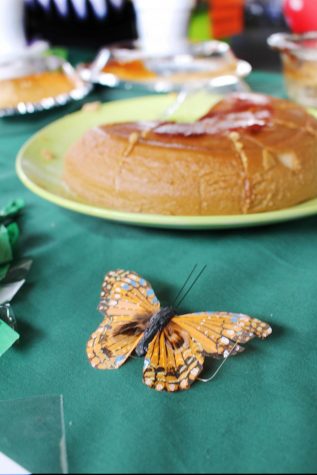 "La Raza" won $200 for first place, with a variety colors and twisted balloons sprawled on their table. The club focuses on the Mexican community.
"We learn about Mexican culture, our rights, and we help immigrants," said Adriana Ortiz-Medina, club coordinator.
Improv club Shenanigans won $100 for second place having featured a handmade kake vending machine and a person in a dinosaur costume promoting their display.
And the $50 prize for third place went to United by Dreams for it table with a green table top in a portrait of its club's members. United by Dreams offers students who are undocumented immigrants advice on campus legal advice concerning their citizenry status.
"Lots of legal resources you can get for free," said Diana Longoria, UBD vice president.
Many student attending Club Day said they are looking for community.
Brandon Guterieza, freshman, took in an interest in the Asian Club because he was eager to meet those who share his culture.
Odochi Nwonkochah, a member of the International Club said many of her group members joined, "So they don't feel alone. Everyone is inclusive."
Some clubs also offer opportunities to help certain students with their major.
"I'm trying to dip my toes into the club atmosphere and get experience in its biochemical engineering field," said Irving Rosales, American Medical Student Association member.
Not all promotions at the event were from clubs. There was a table stacked with delicious looking cupcakes headed by Esperanza Rojas who was selling the cupcakes to help fund Active Shooter Awareness Week, dedicated to educating people on ways they can survive an active shooter.
"I just feel like the college hasn't done enough for the situation," said Rojas.
This year's Club Day seems to have been greeted with resounding approval.
"I thought it was very successful," said Teresea Archaga, director of Student Life. "From what I hear [the clubs] did pretty well fundraising, so that was one of the main goals for today and for some new, they were recruiting members and I believe a lot them were able to do that as well."
Some students looking to join a club may have felt the clubs on hand were not really suited to their particular interests, so they are encouraged to create their own. The process is simple — all you have to do is fill out a charter form online at losmedanos.edu/student life.
— Spencer Batute, Veronica Johns, Tyler Johnson, Jasmine Rieger, Krys Shahin and Julia Steele contributed to this report.