Cybersecurity discussed
Monday's Academic Senate meeting saw Los Medanos College faculty discussing the issue of the website blocking on campus that occurred after the Contra Costa Community College District quietly rolled out a new approach to virus defense in Fall 2017.
Palo Alto Networks, an international cyber security company, updated the district's cyber security system for $727,046. The new system has drawn concerns about censorship due to the volume of websites restricted and the nature of the blocks.
Roseann Erwin, who represented the Library along with Library Director Christina Goff, gave a statement on behalf of the library to open senate discussion on the issue.
"We feel this is censorship," said Erwin, "we have concerns about the district deciding what we cannot see."
Erwin explained Library's opposition to the concept of censorship and district oversight of information; "We were very concerned that we have to vet our content with the district. We feel that it goes against academic freedom."
Goff echoed Erwin's statements and reiterated her past concerns.
"The problem with filtering sites is that it does not properly block sites," said Goff.
Goff said the problem centers around the automated nature of the website blocks – they target based on categories like "questionable" and "pornographic" instead of on a case-by-case basis. The sites blocked include the innocuous CollegeHumor, but known hotbeds of malware like Gorillavid and Putlocker are not restricted.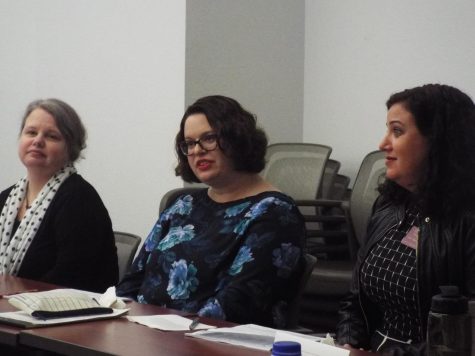 Senate and Buisness professor Janith Norman called for another perspective on the issue.
"We need IT to come and explain this from their perspective," she said. "We are operating in an era where technology is subject to all kinds of malware."
Mathematics professor Julie Von Bergen said the senate should seek more information and said "Palo Alto networks should also be contacted."
Academic Senate President Silvester Henderson echoed Norman's concerns about malware.
"When I was at U.C. Berkeley no sites were blocked, but all adult sites were blocked," he said. "I do view it as censorship, but also as liability protection," against possible hostile workplace complaints regarding others accessing adult sites.
Goff responded that "the liability is not there because parameters are already in place," explaining the library rules that already forbid pornographic material being viewed publicly.
As the discussion drew to a close, it was clear the issue is far from resolved. Questions about the ethics and efficacy of the blocks were raised, but unanswered.
Goff was adamant about the Library's view on the issue.
"The library's position is that this is not an IT issue," she said asserting the Library's stance that this is a free speech rather than a security issue.
After the meeting, Goff said she is hopeful about the future.
"I felt that we were received well," said Goff, "this is just the first step."