Kaiser raises interest
Students were provided free health screenings, medical advice, and massages at this year's Kaiser health fair. The event featured everything from mental and sexual health tables to a climbing wall.
The health fair, which took place Tuesday Aug. 29, was well attended with several students enjoying the climbing wall with others participating in free physical evaluations.
This free event is put on by Kaiser hospital to benefit college students, a group who often neglect their health, both mental and physical.
Doctor Babatunde Salako was in attendance for free consultations with students.
"We are trying to bring our services to the young," said Salako.
Salako continued "we are most concerned about weight, quite a few people are getting diabetes at young age due to lifestyle." Salako also said that there is "an increase in STDs in the young ones."
Salako recommends that college students minimize stress and anxiety, also saying "good self-care along with enough food and sleep are critical for the young."
Representing the sexual health table, nurse Amelia Schott advised on matters of STDs and contraceptives.
"College students are very sexually active," explained Schott, adding, "they need to protect themselves from STDs."
He continued, "people may even be unaware that they have these diseases if they are asymptomatic."
Students also had the opportunity to get a free physical which detailed everything from height and weight to the concentrations of different types of cholesterol in the blood.
The results from this test could be taken to Salako who would then advise what actions could be taken to improve bad results or maintain good ones.
Not all of the tables were focused on serious medical matters however, as massage therapist and LMC alumna Joe Bruno of Pit Stop massage and her team were giving students free massages.
"We provide ons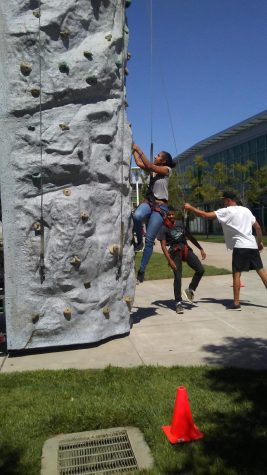 ite chair massages," said Bruno adding that they will "bring the massage to you."
Bruno was also complimentary of the studious nature of LMC students, explaining that "many students are coming back, they didn't want to be late for class."
One of the students in attendance, Manny Jimenez was grateful for the event and the services it provided.
"The fact that they have all of the services for free is great," said Jimenez, "I wouldn't know how to go about doing some of this stuff if it wasn't here for everyone."