Wade talks history and future of black businesses in America
"Where is all your money going?" inquired former Los Medanos College and current Delta College History Professor Evan Wade, thus setting the tone for his presentation Black Wall Street and the Power of Ownership, Tuesday evening in Community Room L-109.
The presentation, sponsored by both the California Association of Woke Students and Los Medanos College's Umoja Scholars program, was on the 1921 race riot in Tulsa, OK in which hundreds of black citizens were massacred and a string of black businesses in the Greenwood neighborhood — then known as "Black Wall Street" for its concentration of wealth — were destroyed.
Before Wade started in on his speech, LMC student and trumpeter Louis Sheppard performed rendition what's known as "the Black national anthem," "Lift Every Voice and Sing." However, two-thirds of the way into the song, he had to stop because of valve-related issues with his instrument. He hummed the last few bars, which garnered applause from the crowd.
Wade then jumped right into his lecture, accompanied by a PowerPoint presentation. One of his main points was African-Americans should be investing in Black businesses again because when they were, they were thriving.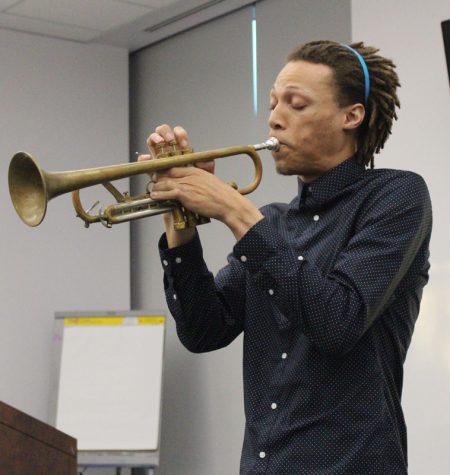 "It was not the race riots of 1921 that was the problem, it was the spreading of black dollars," he said.
Wade also argued that since white people don't spend their dollars at black businesses, why should black people spend their money in white businesses?
Afterward, he asked the audience to name the most important thing they got from the presentation.
Audience members chimed in at this point, suggesting things like unity and mutual respect.
At one point, one of the men attending the event suggested that "females should let women be women and let men be men," which caused many to look around at each other incredulously and drawing laughter.
Wade's main takeaway was "Resilience — that's something to keep in mind. If you can pull together collectively, you can overcome."
After the question portion, both Wade and Umoja Scholars Coordinator Jamila Stewart thanked everyone for attending the event.
Stewart explained why it's important to have these discussions with members of the LMC community. "A lot of students who are black — or not black — they haven't learned about this aspect of history," she said.
She noted how important it was for students of color, particularly black students, "to see themselves in their education so that they know they have a place in the future."
Wade made the point that as long as African-Americans takes advantage of their education, they'll continue to persevere and thrive.
"You have more opportunities than any of your ancestors," he said. "Knowing financial literacy and getting an education sets you up to do incredibly well in the future."