Eligible voters have choices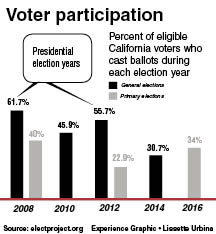 This 2016 election season is shaping up to be one of the most controversial in U.S. history, with two candidates — the first woman representing a major party and an unconventional business man with a style all his own — who are widely seen as unfavorable or untrustworthy. These attributes have kept many undecided or unwilling to participate but the outcome of this election may depend on these hesitant, yet eligible voters.
"Neither — I'm still deciding," said LMC Debate Society member Amata Abatcha at a live on-campus viewing party of the first presidential debate Sept. 26 when asked which nominee she will vote for in the upcoming November election.
Current national polls collected by the New York Times, which are current as of Oct. 6, have Democratic Presidential Nominee Hillary Clinton leading anywhere from three to 10 points in eight out of the 10 polls, with Republican Presidential Nominee Donald Trump leading in the Rasmussen poll by one and in the UCI/CVoter poll by two. And it is still anyone's game.
Beside being able to register at your local DMV or county elections office, as well as online at http://registertovote.ca.gov/ and by mail, here at Los Medanos College students have had and will have several more opportunities to register to vote before California's cut-off date of Oct. 24, thus giving them the chance to weigh in on the final say in this contentious race.
Over the next few weeks there will be individuals/organizations tabling at LMC helping students to register, said Student Ambassador Sarah Holderman, who works in the Student Life office, while looking at the calendar. She said the schedule indicated they will be on campus Oct. 11, 14, 17, 18 and 20 from 7 a.m. to 3 p.m.
And while there have been a couple registration events on campus since the fall semester started, Student Life will not be holding anymore before the deadline, said newly-appointed LMC Director of of the office of Student Life Theresa Archaga.
She said they held a voter registration event for students during the celebration of Constitution Day last month on Sept. 17 and another at the on-campus viewing party of aforementioned first presidential debate between Clinton and Trump.
"Of all the elections in recent years, this is the most important. The future of our country depends on it," said Archaga at the debate viewing party, adding that it's important for students to pay attention to the candidates so that they can "become familiar with the issues."
However, Archaga said in a later interview only one person registered to vote at the viewing and just seven or eight registered on Constitution Day.
This lack of enthusiasm to sign up could mean people have already registered but it could also reflect a growing state- and nation-wide trend of eligible voters not showing up to the ballot boxes.
Now, in California, we are a largely democratic state and haven't voted for a republican nominee in the general election since 1988, and this year seems to be following that trend — according to RealClearPolitics.com, as of Aug. 28, Clinton leads by an average of 19.7 points.
But a large percentage of people who can vote, don't.
The United States Election Project, which is done by the University of Florida's political science department, keeps track of voter turnout in each election and it shows in the last eight years the highest voter turnout rate in California was in 2008 when President Barack Obama defeated Republican Senator John McCain. That year 61.7% of eligible voters showed up to the ballot boxes in the general election but in 2012 only 55.7% cast votes to reelect him.
While those numbers may seem low, California primary and non-presidential general elections have seen even lower rates of participation.
In 2008 primary election turnout was 40% and then dropped to 22.9% in 2012, but slightly rose in this year's primaries to 34%. The general elections without a president on the ticket in the last eight years have not fared much better, with 45.9% of eligible voters showing up in 2010 and just 30.7% in 2014.
If turnout rate was graded like a test, California's highest grade would be a D-, and the rest would be failing, with most other U.S. states following similar patterns.
This type of data goes against the old saying "My vote doesn't count anyway, so why should I bother?," because there is about half of the voting population staying at home election day. If all those people showed up at the ballot boxes we might have a very different race on our hands.