'Thank you, Karen'
LMC copes with a recent loss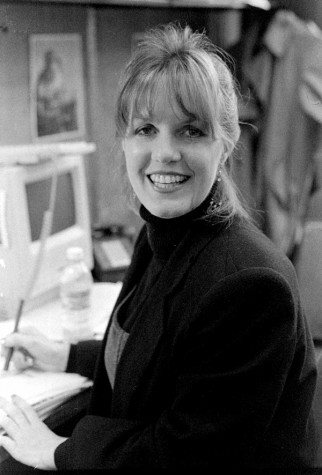 Los Medanos College has suffered a great loss with the death of English Department Chair Karen Nakaji. She died Saturday morning, March 7, just three months after being diagnosed with pancreatic cancer.
The news was announced to all the college's employees by LMC President Bob Kratochvil via email late Tuesday evening.
"At LMC, we have the best educators and colleagues in the world and Karen Nakaji was second to none. Thank you, Karen, for being such a special part of our LMC family," said Kratochvil in the email.
The news came as a shock to some, including speech instructor Nancy Petersen, who worked more than 10 years with Nakaji in the Reading and Writing Center.
Petersen, who spent most of her time at the Brentwood Center, said she didn't even know she was sick and was "sad beyond words" at hearing the news.
"I always loved Karen's energy and positivity," said Petersen in an email response to the notification. "LMC has lost a very bright light."
Not only was Nakaji a part of the campus community as a teacher but was also an LMC success story.
"She was a student here for several semesters before transferring to CSU Hayward, where she received her Bachelor's degree in English," said Kratochvil in the email sent to staff.
But Nakaji made her way back to Los Medanos College and took on the job of tutor program assistant in 1989, said Kratochvil. After completing a master's degree from Holy Names College in 1993 Nakaji chose to continue her career at LMC as an adjunct faculty member, and the decision was made permanent in 1997 when she was finally hired as a full-time tenure-track professor in the English department.
Even before she started her first semester as a full-timer, Nakaji began to make waves.
According to Nancy Ybarra, dean of Liberal Arts and Nakaji's personal friend, during that summer she, Nakaji and English professor JoAnn Hobbs traveled to Appalachian University to visit the Kellogg Institute's National Center for Developmental Education because they were, "at that time, trying to kick start a really organized program for basic skills for students who are not ready for college level."
"So Karen and JoAnn, as their project for the institute, re-did the entire curriculum for basic skills English," said Ybarra, accomplishing what very few colleges had done at the time.
Back then most colleges had separate courses for reading and writing, explained Ybarra, "and we felt very strongly that those skills go hand in hand."
When they returned from their trip, Nakaji and Hobbs "rewrote all those courses, went through the whole curriculum committee process, sold the department on it, got it started, … [and] did all the leg work," said Ybarra. "We were one of the first to have integrated reading and writing courses."
Hobbs was hired at the same time as Nakaji back in 1997 and she recalled how they had originally competed for the same position.
"We attended a conference together, and got to know and like each other very much that spring, and we were sorry that we were both interviewing for the same job," said Hobbs.
But in the end the situation took a turn that benefited everyone.
"During the week of the final interviews an English instructor, who was on leave from LMC, resigned," said Hobbs. The president made the decision to create a new position so he could hire both of us. We always said that it was a 'miracle,' and it has been a wonderful collaboration and friendship for the past 18 years."
Some people reach a peak early in their career and then seem to go stagnant, but Nakaji kept working to improve the students' experience at LMC.
In 1999, after LMC received a grant to overhaul the tutoring program, and Yabarra said Nakaji was selected to "take [it] to the next level … She was really a natural for that position. So she became the first director of the Reading and Writing Center (now the Center for Academic Support) and was really sort of the driving force behind getting that established."
But Nakaji still wasn't done contributing on a major level to LMC.
She not only stepped up to the plate when the previous English department chair suddenly and resigned mid-semester, said Ybarra, but she also put in extensive work on a new a new english degree.
"She was the person who really did the heavy lifting and the writing to get our AA-T degree for an English major," said Ybarra.
Most people know someone who seems to leave a lasting impact on everyone they come in contact with and can't help but make their world a better place. And if you talk to those who were close to Nakaji, whether they were friends, colleagues or students, you get the impression she was that person for the LMC community.
Sara Toruno-Conley, who served as a lead of the Developmental Educational program with Nakaji, remembered when she was first hired as a full-timer in the English department and had to tell the dean her wedding date coincided with the beginning of the semester.
"Having to miss the first day of classes and still being new was stressful to say the least," said Toruno-Conley. "However, Karen Nakaji stepped up right away to sub for me, and was so warm and understanding!"
When Toruno-Conley returned to work, she asked Nakaji how everything went.
"Immediately she had me cracking up, telling me how she couldn't get the new smart board to work, and most of the session involved the students trying to assist Karen in getting the thing to work," Toruno-Conley said. "When I met the students for the first time, they all told me how much they liked Karen, and I sensed that they may have been a bit disappointed that she wasn't going to be their instructor for the semester."
After that they "became closer" she said, and Nakaji served as her mentor.
"She made me laugh when I was down, she made me feel confident about my abilities … she became a real friend," said Toruno-Conley.
But this was not an isolated incident. According to her colleagues, Nakaji was always willing to help someone out.
"She was very generous with her time and her assignments," said Hobbs. "She freely gave away lessons she spent hours working on if it would help another teacher. She did not give it a second thought."
Austin echoed Hobbs' sentiments, calling Nakaji "a teacher's teacher," but she said she was more than that.
"Karen was universally loved by every single member of the English department and that is the highest praise I can give her," said Austin. "She earned that love by being kind and generous to every single faculty member."
Kratochvil said in an interview he didn't know Nakaji well, but has heard stories about her from those who did.
"She was a tremendous person beyond being a great teacher," he said. "The loss is pretty profound for people."
And when you speak to the people who did know her well, they all seem to agree one of her most memorable qualities was that she was funny.
"Karen was humble and had this great self-deprecating humor," said Austin. "Whenever I talked to her about making a mistake, she always shared a bigger snafu that she had made. This made us both laugh."
And the hilarity never seemed to stop between Austin and Nakaji.
"We were either on a diet or off a diet, and laughing," said Austin.
But Nakaji, who had a sign in her office that read "the witch is in," was not afraid to be tough, recalled Austin.
"I remember one time I was mad at her because she didn't back me up in a department meeting," explained Austin. "She looked at me and said, 'I totally agree with your point but you weren't very fair in how you said it so I couldn't agree with you.' With tears stinging my eyes, I knew she was right."
Austin said Nakaji had taught her an important lesson.
"It doesn't matter if you're right if you say it in such a way that no one can hear you," she said.
Not only was Nakaji adored by her coworkers, but by her students as well.
Joanna Santos, who took Nakaji 's online Mystery Detective Literature class last fall, said she enjoyed her teaching style.
"She did what most online teachers can't do, she made it enjoyable," explained Santos. "What I loved the most was how she made students explore their creativity."
And Santos said Nakaji will not be forgotten.
"Karen will be remembered for her kindness, and her love for English was reflected in her teaching," said Santos. "She will surely be missed."
Even toward the very end, Nakaji brightened up the lives of the individuals around her.
"Karen, herself, was very graceful, very accepting, knew what was coming… [and] she sent an email basically saying goodbye to everybody," said Ybarra. "She didn't want to just disappear. She wanted to do it right. She wanted to kind of take care of everyone."
Ybarra said that although Nakaji was the one dying, she wanted to know how you were doing and what was going in your world. No matter how sad or depressed you felt when you visited her, somehow when you left "you would feel better."
"She was just truly one of a kind," said Ybarra.
An on-campus memorial service will be held later in the semester to honor Nakaji and organizers are looking for a few of her former students to speak at the event. If you would like to participate in a celebration of Karen Nakaji's life, please contact Ybarra at [email protected].
Nakaji was also very fond of the nature preserve and the English department would like to have a plaque placed there in her honor. If you would like to donate funds to this cause, you can do so through the Los Medanos College Foundation.
View Comments (4)