Wolff Plays with Jazz Ensemble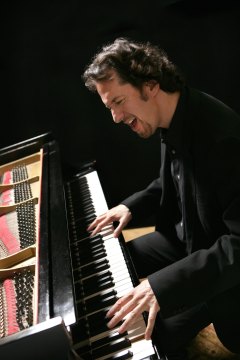 Pittsburg community members and LMC students gathered in the Recital Hall Thursday night as the LMC quartet prepared for the stage. The band members sat eagerly to play in the center of the spotlight.  Director of Jazz and Pop, and United Faculty Vice President, Michael Zilber filled in on short notice to play the saxophone.
Zilber then announced that a special guest was to come out shortly. The quartet started off with a swing-style song called Whisper Not. Audience members tapped their feet and bobbed their heads. Each instrument slowly coming in to ultimately make a recipe of magnificence.
"You will never see a show like this again for just five dollars," said Music 12 student JoAnn Narag, "out of all of the concerts, this is the best." Narag's music class focuses on the history of Jazz and Blues while teaching an appreciation for the culture as well. Narag's class regularly attends Jazz concerts, usually in San Francisco or Berkeley.
The guest of the night, pianist and composer Michael Wolff took the spotlight as he begun to play his popular song, Joe's Strut. The song was released in 2009 and inspired by a close friend of  Wolff's, Joe Zawinul.
"I loved the way he walked, he had a hip boxer's New York kind of walk." Said Wolff.
The New Orleans pianist played a cheerful upbeat piece, lifting the entire audience. As the quartet joined in, Conductor Jeff Mars, danced away as he gave direction to the musicians. Toward the end of the show, Zilber joined Wolff in a duo to Wheel of Life. Both of them displaying a strong expression of feeling as their eyes were closed tightly, they moved to the beat and they played with their heart and soul.
The students who were playing in the band, were dressed professionally and played to the level of Zilber and Wolff. Wolff, once a comedian, joked with the audience and allowed time for questions as the end of the night approached. For more information on Wolff visit Michaelwolff.com