Stars still shine at LMC
Astronomy classes transition back to in-person environments.
COVID-19 hit the astronomy department hard last year, as the courses are best experienced in the LMC Planetarium. That all changed this fall when some face-to-face classes resumed on campus— including astronomy.
Some online classes provide a seemingly quick and easy way to learn but the full experience is not available to students when they are limited to online. 
"We have a really good planetarium," said professor Scott Cabral, who has worked at LMC for 32 years.
Cabral said that whether he is teaching in person or online he tries to teach his students that as humans "we have a lot more in common than we have different." 
But, Cabral noted, that is easier face-to-face. During the pandemic, he has had to change how much of his class worked to make up for not being able to use the planetarium, other on-campus tools — and human interaction. 
On the other hand, Katie Berryhill, a professor who has been teaching at LMC for six years, said she had a much easier time with the initial transition in spring of 2020 as she had previous online class experience.
Berryhil's hybrid class this fall — partially in-person and online — now works to ensure that students get all the necessary information needed to pass the class. The homework that she assigns is then applied and tested when they next meet in the planetarium, "basically a flipped classroom."
But she was still surprised at how long it would be until she was able to return to having some in-person classes.
"I had no idea I wouldn't see the inside of the planetarium for 18 months," said Berryhill.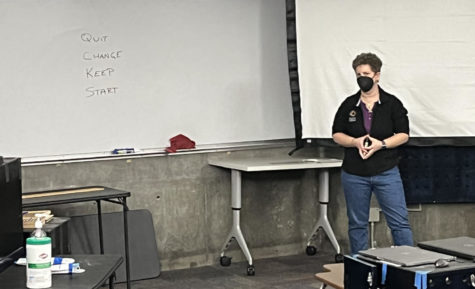 Despite having online class experience, she had no experience with Zoom and quickly learned that most students don't like to show their faces in Zoom meetings.
"It helps to see faces," said Berryhill, who explained how seeing a student's face can show the instructor what they think about a topic and what they understand. 
"You can tell what you're saying is landing," she said.
Cabral disliked that he was unable to act as energetic and enthusiastic on Zoom as he is in a face-to-face class.
"When I am in the planetarium I can roam around and wave my arms and look at one student and look at another student," said Cabral. "And be really energetic and emotional."
Since the return to in-person classes this fall, Berryhill has noticed that even in-person students are a lot quieter among themselves and the instructor than they were before having only online classes. 
"Almost like we're still on Zoom," said Berryhill.
Cabral was excited to learn that he could resume in-person classes and said that being back ion campus is "wonderful."
He did not struggle when it came to readjusting back to in-person."It's been a joy being back in the planetarium," he said.
The planetarium creates an interactive environment in which the instructor and students can engage with the material that is being taught. Being online limits interactivity and makes it more difficult to visualize the material.
Student Christian Perez Arnold said the planetarium allows for the students to see the constellations— even during the afternoon when they would normally not be visible to the human eye. 
"Visualizing is more important than just seeing it through a screen," said student Kevin Millare.
Face-to-face classes may not be necessary for all types of courses but being in-person allows astronomy students to better learn difficult-to-comprehend concepts and ideas through the large-scale simulated sky in the planetarium.