Rico Nasty's newest album breaks the mold
"Anger Management" reveals different side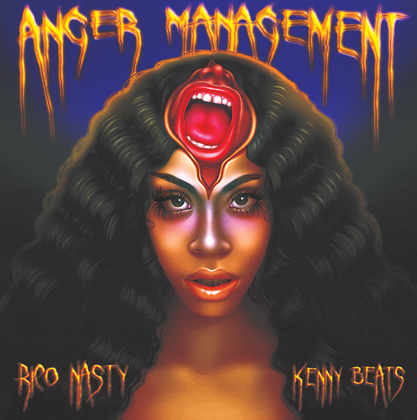 In a genre saturated with artists who drown in their influences, an artist that fills a specific niche has become rare. DMV rapper Rico Nasty embraces her "wild child" persona on her latest release "Anger Management."
Nasty was born Maria-Cecilia Kelly in New York on May 7, 1997, before relocating to Maryland as an only child. Nasty was 15 when she decided she would pursue music through writing poetry and freestyling for her parents before they divorced in 2016. That same year, she released her debut mixtapes "The Rico Story" on June 2, 2016, and "Sugar Trap" on Aug. 19, 2016.
In June of last year, she released her mixtape "Nasty" which was integral to her growth as a rapper in the male-dominated genre of hip-hop. Her abrasive delivery on "Nasty" can become exhausting on some tracks, but "Anger Management" reveals how versatile Nasty can be through delivering verses over producer Kenny Beats' aggressive production.
Released in late April "Anger Management" the album comes out to only 19 minutes worth of content. Nasty kicks off the album with the song "Cold" that features a brief skit before hitting the ground running. A calming synthetic vocal can be heard uttering, "Aren't you tired of the same old thing?" before Nasty's signature "Kenny" is shouted prompting the distorted 808.
The clarity of the various elements in the track can be credited to mixing engineer Alex Tumay who stylistically gave the ad-libs and lead vocals just enough presence to be distinguished amongst the chaos. Nasty disproved critics who've called her aggressive style "predictable" in the next track "Cheat Code," the most notable change stylistically.
"Cheat Code" features a slower tempo with pitched ad libs placed in odd positions within the song's arrangement. Electronic producer Baauer who has worked with hip-hop greats like producer Just Blaze and rapper Jay-Z, is credited on the track which explains the unconventional production that better suits the techno or house genre. Nasty's raspy voice paired with the glitchy hook and synthesized effects makes the song feel overproduced.
Paying homage to Jay-Z, the sample used for the song "Hatin" features the signature horns heard in Hov's hit "Dirt Off Your Shoulder" off his 8th studio album "The Black Album."
Beats simply added triangle wave synth effects during the hook and his trademark drum samples.
After the "Nasty World" skit the tape takes an introspective turn, removing Nasty's blaring ad-libs in place of more space in the instrumental. "Relative" is the shortest song on the tape but is a favorite, because it proves that Nasty can execute a charismatic verse without screaming into the microphone.
Finishing off the mixtape are the tracks "Sell Out" and "Again" that are auto tuned trap ballads that carry a soothing quality despite the explosive introduction at the top of the project. Nasty can be heard rapping about growing up an outcast and turning to God in her times of desperation. Nasty deconstructed her own enigmatic image by expressing her real-life hardships, a topic worthy of further exploration in her future releases.