Brentwood smokehouse gives back
Meaty aromas, classic rock and the American spirit fill the dining room of the American Heroes Smokehouse barbecue restaurant in Brentwood. Owned by Jo Danberry, the daughter-in-law of company founder and CEO Ed Danberry, a Vietnam veteran, the restaurant is dedicated to southern-style barbecue, southern hospitality and veteran outreach.
The Brentwood location opened April 2, making it the first non-New Jersey location for the East Coast company. According to Danberry, the location was picked merely because she lives in Brentwood; her father-in-law asked her if she thought a location in her area could be successful, and she told him yes. She felt the unique southern-style practiced by American Heroes would contrast with the local offerings and aid the many veterans' resources in the area.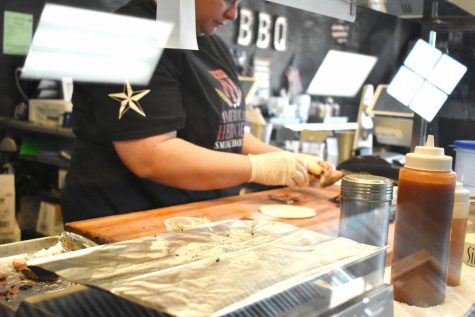 "We just love this community," Danberry said.
The store itself, formerly a Quinzo's location, had to be completely converted. Everything but the floor and the restrooms were gutted during construction, which started early this year and finished very quickly. Danberry cited Front House Manager, Lauren Lockhart, as a contributor to the successful opening.
Lockhart previously worked at the New Jersey location, along with her husband Aaron, the Brentwood location's Kitchen Manager, and were relocated to the area by Danberry to provide experience during the formative phases.
Since opening, American Heroes has stuck fast to its mission of honoring and giving back to veterans by offering jobs to as many veterans as possible, offering a 20 percent discount for veterans and a 10% discount to emergency service workers as well as partnering with local veterans' resources.
"Just starting from the store standpoint, we make it a point to thank everybody for their service, all of our veterans, all of our emergency services personnel," said Lockhart.
According to Danberry, the store is currently raising funds to train and give out a service dog named Jocko. To fully train Jocko will cost about $10,000 and the store has currently raised about $2,000 says Danberry.
Outside of veterans, American Heroes also believes in embracing local communities and providing opportunities for their employees. Assistant Manager Nikki Karber, who was hired on before the opening, believes in the store's mission and loves the environment present within it.
"[Compared to other restaurants I've worked at] it's definitely a lot more homely, a lot more friendly, a lot more comfortable," Karber said. "It doesn't feel like you're being bossed around, it feels like you're a part of something bigger."
American Heroes Smokehouse is located at 8610 Brentwood Blvd. and is open 11 a.m. to 8 p.m. Sunday through Thursday. The smokehouse is also open from 11 a.m. to 9 p.m. Friday and Saturday. They sell barbecued meat by the pound, homemade sides as well as combo platters.