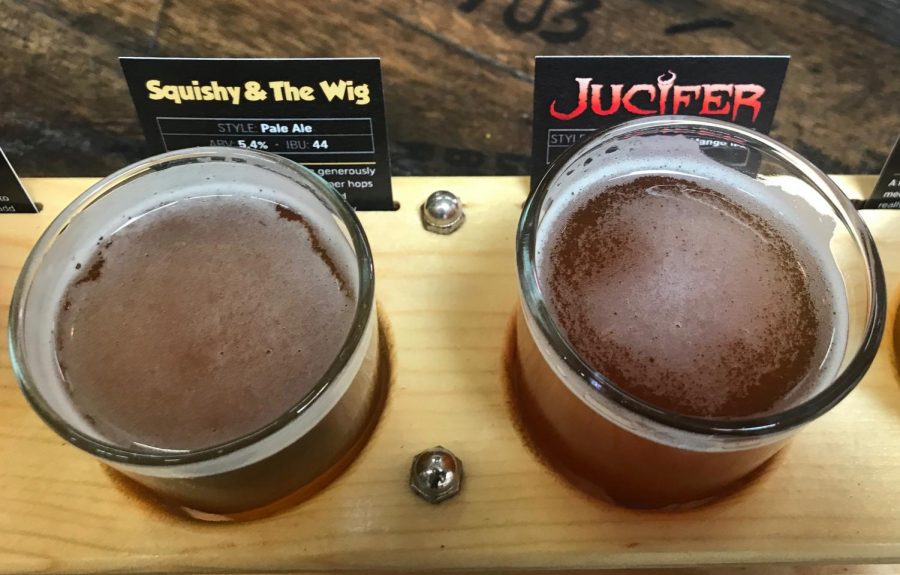 Oktoberfest part 4: Epidemic
October 25, 2018
Check out the first in our Oktoberfest series here.
The first thing people notice about Epidemic is it's unlikely location. As you approach the brewery, tucked away among businesses and warehouses down a Concord side road, you may begin to doubt that you are in the right place but those who persevere will find a truly delightful brewery experience.
The perpetually busy brewery is fairly small, with seating for around 50 in its industrial interior. Massive bags of malt are stacked on shelving behind the seating area and the tanks and apparatuses are clearly visible, only separated from the patrons by a small chain.
This DIY aesthetic comes across as charming rather than cold due to the stylistic additions like sets of paintings from one of the brewery's paint nights or the foam baseball bat covered in barbed wire. This gives a playful tone to Epidemic.
The inclusion of a pool table, oversized Jenga blocks and a dart board lighten the atmosphere and give Epidemic its unique, laid back vibe.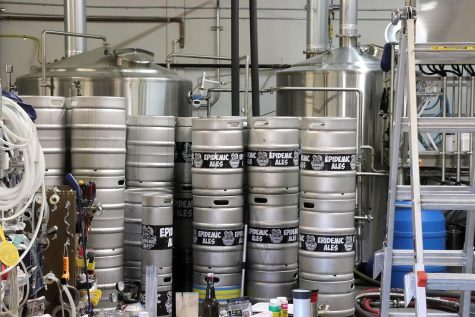 Food trucks often park outside the brewery offering everything from tacos to barbeque, to strangely, pizza. This in unison with the beer nuts and snacks sold inside give visitors a chance to fill their bellies with something other than beer.
This is a good idea if you try the beer flight as the sampler. It comes with eight 5-ounce pours of the beers on tap, adding up to almost three pints. Flights are served in a beautiful wooden holder consisting of two boards anchored together by large bolts with glasses passing through holes in the top board to rest on the bottom.
The flights holders add to the atmosphere as each is obviously hand crafted. In addition to being an interesting way to sample the beers, the flights also come with cards, letting guests know each beer's style, bitterness, alcohol content and ingredients.
Information like this is invaluable in learning about beer and how to appreciate it, and not enough places include information like this.
These are beers worth learning about, too, as several of them are truly fantastic. "Affliction," an amber ale that matches hop and malt flavors beautifully is a standout, being sweet, bitter, citrusy and a little woody. "Zombrew" is a typical, but well realized, old school IPA with a strong malt backing that still maintains a floral and fruity finish.
Perhaps the standout is "Nutty but Nice," an absolutely insane peanut butter flavored stout. It somehow manages to be nuanced in its palate. When you hear something like peanut butter stout you think of something that eschews balance in favor of garish flavoring, "Nutty but Nice" defies this by using the peanut butter as a subtle addition providing a pleasant and smooth aftertaste.
The same can not be said of "Jucifer," a "cherry, banana, mango IPA," that is just as confused as it sounds. The brew is syrupy sweet and has an aftertaste like cheap maraschino cherries. A bold experiment that falls flat on its face.
Overall the brews were fantastic, barring a few missteps. Whether you are looking for a fun night out, are a beer fanatic or are just beginning to appreciate the beverage you cannot go wrong with Epidemic.