'Fluffy' comes to the Bay Area
Gabriel Iglesias, also known as Fluffy to his fans, made a stop in the Bay Area on his Unity Through Laughter world tour. However, this wasn't just another stop on the tour, it was the filming of his next special that will appear on the big screen on July 11, 2014. On the day of its release he will become the first Latino comic to have a stand up movie appear on the big screen.
Iglesias broke onto the scene in 2007 with his Comedy Central special Hot and Fluffy and has been on the rise to the top ever since, and when this movie hits the big screen, it will be the culmination of it all.
The movie was filmed in San Jose at the SAP Center and the stage set up had a very Bay Area feel to it with a replica of the Golden Gate Bridge and the San Francisco skyline in the background. To add to the Bay Area feel he had a special guest emcee along with his good friend and usual emcee Martin Moreno, local radio personality Chuy Gomez.
The final topping on the Bay Area cake was the opening act, a local comedian by the name of Dennis Gaxiola who has been touring with Iglesias and was featured in the first season of his Comedy Central show Stand Up Revolution.
The movie began with a roar as Iglesias came out onto the stage and chants of "Fluffy" overtook the arena.
He ran from one side of the stage slapping hands and greeting fans seated in the front row before taking his place at center stage.
From there he touched on the progress of his weight loss with a hilarious story about a consultation for weight-loss surgery, a show in India that took an interesting and hilarious turn from the norm, and touching events involving his family that of course had a comical side to them before exiting the stage to another roar from the crowd and more chants of "Fluffy."
The show wasn't over yet though, as he came back out for an encore.
For the encore he went back to his roots and told the jokes from his very first special, Hot and Fluffy, and what happened is a must see.
This show is a must see for anyone who enjoys comedy. It doesn't matter if you are a fan of comedy, a fan of stand up or just a fan of Iglesias, you will enjoy this show as he is not only funny, but his personal stories are easily relatable.
Leave a Comment
About the Contributor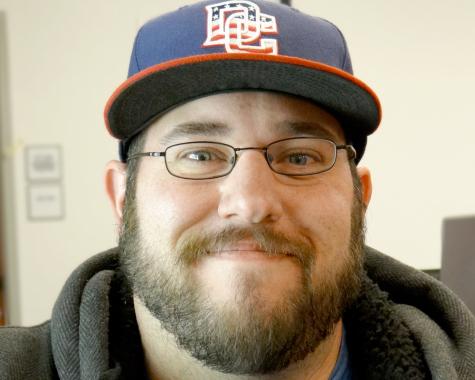 Steven Luke, Sports Editor
My name is Steven Luke and I am currently in my fifth semester at LMC and my third on staff for the LMC Experience. This semester I am the Sports Editor...