Student show impresses all
Bronze scissors with legs for blades dangled from the ceiling of the LMC art gallery casting a shadow against the wall as if it were dancing towards the next piece of art. "Running with Scissors," by Alexandra Goncharova, is one of over 50 pieces that were chosen for this year's student art show that may have some in awe of the creative ability of LMC students. The student art show is in full effect and is scheduled to run until May 15.
Out of hundreds of submissions, 44 students were chosen to have their work run in this year's showcase. Categories included ceramics, digital photography and sculpture. Students who have taken an art class this semester or last were eligible to submit their work, up to two per each category.
Curator Judy Pettite says the show is important for students for the experience of what it is like to submit their artwork for a gallery. "I think it's good for the students, students have experience submitting their work, having it juried, that's a real world experience," said Pettite adding "students love it, and you know it's hard because some get rejected and you have to deal with that."
Some of the artwork seems to bring you right into the picture. One painting that was not identified by a name or title, hung on the wall with a lion in the middle of two individual picturesque scenes of what looks to be the Serengeti. The vibrant reds and bright yellows brings a sense of being right there in the hot African sun swatting flies away from your face.
A very detailed wood carving of a mans face by Steven Fottel titled "Red Beard" sits in the middle of the second room looking out to the gallery. On the bark, you can see hair, clothes and a patch over one eye, the creative imagination of seeing something in an raw object and then stripping away the unnecessary parts is a talent that should be admired.
Students had their art judged by an outside juror, Art Department Chair Anna Trent picked winners from each category. Students were awarded with a gift bag filled with art supplies from Dick Blick. The Discovery Art League of Discovery Bay awarded each of the students with $125 scholarship choosing from four different categories.
Art Department Chair Ken Alexander said that the student art show has been going on since before his time and commented on the quality of the art work. I looked through the work and was very impressed with many of them," said Alexander. He then emphasized, "We are always happy to have the show because it give us an opportunity to show what our students can do to the community."
Leave a Comment
About the Contributors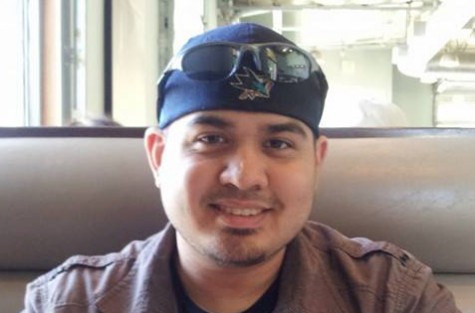 Brendan Cross, Special Projects
Brendan Cross, 22, is a former editor-in-chief and webmaster of The Experience. He is currently the special projects manager.

After graduating from...