Faculty and staff on display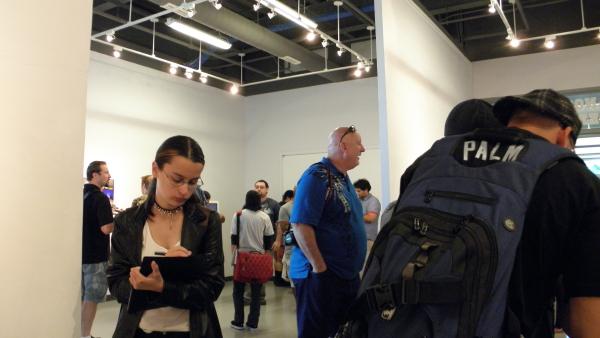 The LMC Art Gallery is kicking off the school year with Roll Call 2012, the annual faculty and staff art exhibition featuring the work of more than 10 featured artists. The new show opens Aug. 21 and runs through Sept. 12.
On display this fall are a variety of creations ranging from traditional paintings and photographs, to woodcarvings, and even computer film shorts displaying the creative process.
At the start of every fall, the art department gives LMC faculty and staff a chance to show off some of their work. One piece by ceramics teacher Lucy Snow is a clear favorite of students and faculty visiting the gallery.
"My favorites are the ceramic pigs done by Lucy Snow. They give a really old message," said fine arts student Laura Morgan. The collection she is referring to is the War Pig, the Banker Pig, and the Politician Pig with money falling out of his pocket. "I always love the stuff that Lucy does," added Morgan, who also works as a gallery assistant.
One of the artists on display, LMC gardener Gilbert Amaral, is also a fan of Snow's work. "I love the pigs," he said. "I love what she created."
Amaral, a first-time entry in the faculty and staff art show, said Snow inspired him to enter his hand carved walking sticks. "I shared my work with Lucy and she encouraged me."
Sandra Avalos, a social welfare major, said she liked all the art on display, especially Amaral's carved walking stick of the cobra.  "I am in awe," she said of the show. "I love the diversity."
The film short submitted by Eric Sanchez and Matt Reynoso shows how much time goes into actually doing a piece of art using a video of a mural they put together for Google. You can also find photographs, marketing brochures, and even one silkscreen.
If you would like to take in Roll Call 2012, viewing hours are. Tuesday through Thursday, 12:30-2:30 and 4-6 p.m.