'Gum' is fun and cringy
Sex scenes that will make you cringe the moment they come on and oddly relatable, quirky commentary, are two of the many hilarious features that returned to "Chewing Gum's" second season.
Episode three has a scene in it where Tracey — played by series creator and writer Michaela Coel — stands up in front of a crowd of people at a sex party she was invited to by her cousin, declaring that they all deserve to be seen for more than what they have to offer on the outside.
Other than obviously being the wrong place and time to make a speech about loving yourself, there isn't a scene that describes "Chewing Gum's" entirety more perfectly than that one.
Season one ended with Tracey and then boyfriend Connor being kicked out of their homes and struggling to find a place to live. By season two, fans of the couple discover they not only broke up, but that Connor moved on with a much older Emma.
This ignites a persistent Tracey to replace her ex-beau, which leads to one interesting experience after another. In episode two, she meets a white guy named Ash who fetishizes black women and the episode ends with Tracey cussing him out in front of his biracial children while dotting a tribal-esque print bikini.
But after the unfortunate encounter, Tracey does not spend the entire season as sex-obsessed as she was in season one.
Coel explained in an April interview with TIME she wants Tracey's character to embody a woman who could care less about the way society expects women to present themselves sexually, but it seems like she took it and did so much more with that unencumbered behavior this season.
By the last episode, viewers begin to see a new Tracey who is not only free sexually but internally as well — we start to see Tracey accept the circumstances that led to where she is by the end of the season, which is a turnaround from the constant lies and ridiculous plans she'd create to alter her life from the last season and the start of the current one.
Coel also incorporates more progressive subjects into her writing that touch on race, masculinity and colorism, which connect with the secondary characters development as well.
Throughout season two, Tracey's longtime friend Candice continuously makes comments about her being light-skinned with long hair as a way to remind people of her beauty.
Although it's reminded that she's seen as beautiful because of those specific features, the show doesn't let that cloud the fact Candice has said extremely horrible things about Tracey's appearance and continues to pressure her boyfriend, Aaron, to be someone he's not.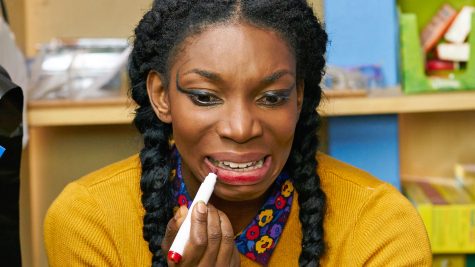 Aaron hears that he needs to "drop his balls" and be more of a "man" from Candice but by the end of episode five and in episode six, he stops putting up with her toxic behavior, cuts her hair — after she mockingly stated he wouldn't — and leaves.
The most significant aspect of the show is its ability to be relatable.
Seeing a black woman being portrayed as awkward, carefree, sexually liberated and confident — all while knowing she's unconventional to society standards — is something women of color in this generation need.
I find myself growing with Tracey's character each episode.
Whether it be saving a dog from a pornography photographer or cutting her hair off to make her best friend feel beautiful again, Tracey represents a character that was nonexistent for women of color and Coel continues to outdo herself each episode.