Change in Ed Sheeran's 'Divide'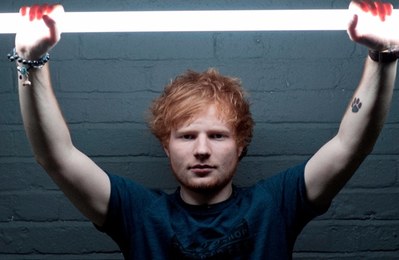 After a yearlong hiatus, English Singer-Songwriter Ed Sheeran's highly anticipated third album "Divide," was released Friday, March 3, showcasing a more grounded sounding Sheeran.
Following the success of his second album, "Multiply," Sheeran released a statement on Instagram Dec. 12, 2015 where he announced his hiatus, teasing the production of his third album as "the best thing [he has] made thus far."
He kept his promise returning exactly one year later to social media and began his next era Jan. 6. releasing two tracks of the album — "Shape of You" and "Castle on the Hill."
Listening to both during their initial releases, "Shape of You" was the real headturner. While "Castle on the Hill" did give some Lukas Graham "7 Years" vibes, it was typical Sheeran. "Shape of You" was the real indication of a new direction Sheeran has started to go in appealing to a more general audience.
Having both singles released at the same time, it felt as though this is was a way for Sheeran to express to his audience the message that his style was changing. While he wants to assure people he is still the same boy from Framlingham, Suffolk, he has inevitably changed.
Although there are elements of Sheeran that remain true to his roots as an artist including his quirky rap style in "Eraser" and "Galway Girl" and an array of guitar heavy heart wrenching songs such as "Perfect," something about his music feels different.
The attempt to revamp his style was appreciated. After a brief hiatus artists will boast about how the new music they are working on is like "nothing you've ever heard before." Adele, for example, often expressed that "25" would be different from her two previous albums as she feels she can write about more happy things, but it wasn't. It's not that she can't sing more upbeat music, but sad-romantic songs are expected from her.
Similarly, Sheeran has been pigeonholed into the role of a romantic guitar strumming acoustic artist. Apart from "Don't" and "Sing" from "Multiply" and "You Need Me I Don't Need You" from "Plus," it's not often that Sheeran dips into the more pop and mainstream styles of music.
It's refreshing to hear more from Sheeran. Like Australian Singer-Songwriter Sia who writes for artists like Rihanna, most catchy and pop music he writes goes to big artists.
Overall, it seems as though he is in the in-between stages of figuring out where he wants to be as an artist with his newfound fame. One can only hope this picture becomes a little clearer for his next album.