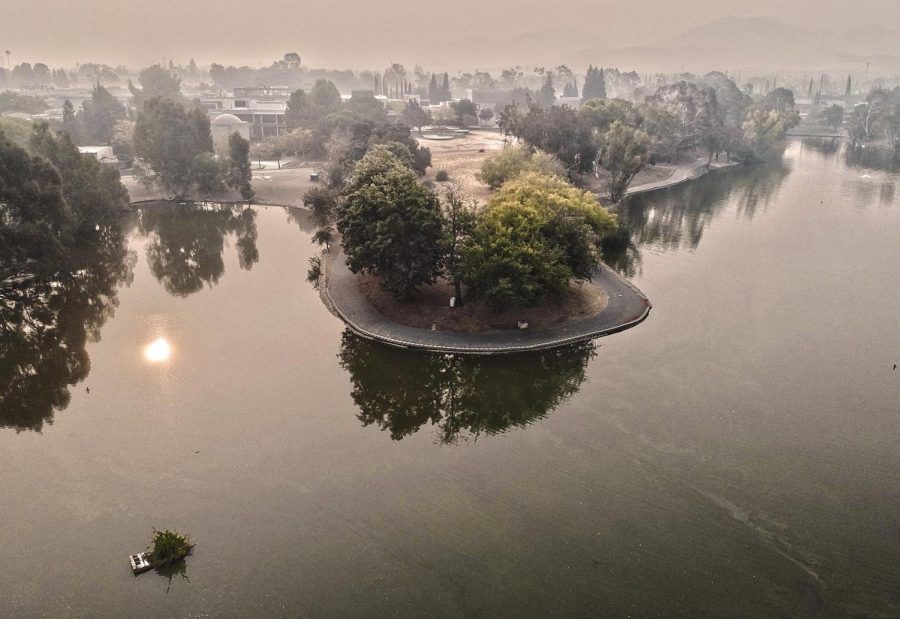 Lake pollution raises concern
Los Medanos College is known for its beautiful lake and geese that inhabit the water. The relaxing pathway around the lake goes under a mile with nine acres of water and is enjoyed by students, faculty and the Pittsburg community. The lake is home to various fishes, turtles and of course, birds of all kinds seen all over campus.
"We have got to get a little more water movement," said Pittsburg native Vicky Clearly. "We've got to have a balance in everything."
Clearly has frequented the lake ever since her sons, who are LMC alumnus graduated from the college. In Clearly's years visiting the lake, she has noticed many changes.
"It's in great condition compared to the past. It used to be a lot worse than this," said Clearly.
While clearly said the lake is by no means at its worst, she has seen in look better and could stand to improve.
Three sources feed the lake: rainwater, water pumped in from Discovery Bay and storm or waste water runoff from the surrounding community, causing it to turn that swampy green color we are all so familiar with.
"As we can all see, the lake is not the same. It is polluted by all of these sources," said Ecology professor Briana McCarthy. "Microcystis, a cyanobacteria occurring in the Sacramento-San Joaquin Delta, is currently blooming, so the water coming from Discovery Bay is likely bringing this cyanobacteria to the LMC lake."
Because the lake is filtered, it is susceptible to blooms — periods of intense growth — of this cyanobacteria, as well as algae. Pollutants, namely phosphates and nitrates from surrounding households and community sources, are going to impact water quality because the pollutants act as nutrients and food for the bacteria. The bacteria then explodes, and dies.
"Massive die-offs lead to low oxygen levels in the water, which kills off fish and other species in the lake," said McCarthy. "We have had no rain, which dilutes pollutants and aerates the water, I imagine the lake is worse off than normal right now."
Though the lack of rain this year may also be affecting the lake, buildings and grounds is doing all they can to keep the water healthy.
"We have a device to help with aeration of the lake and we are continuing to research the best way to increase the health and appearance of the lake," said buildings and ground manager Russ Holt.
Even though the pollution of the lake is coming mainly from sources that we cannot directly control, like extremely long and dry summers, we can still do something to help slow the pollution process down. Keeping litter out of the lake and hosting lake clean ups is one way to improve the overall health of the water and the lives of the wildlife who live there.
"I think the lake we have here at LMC makes the school much more pleasant to look at… it gives the school life. Now that I know that the pollution of the lake is affecting the fishes and turtles in the water, it makes me sad," said LMC student Santiago Alvarado. "I feel like we as a community should do something to help put the pollution to a stop. Even if it's as simple as keeping our household water clean."