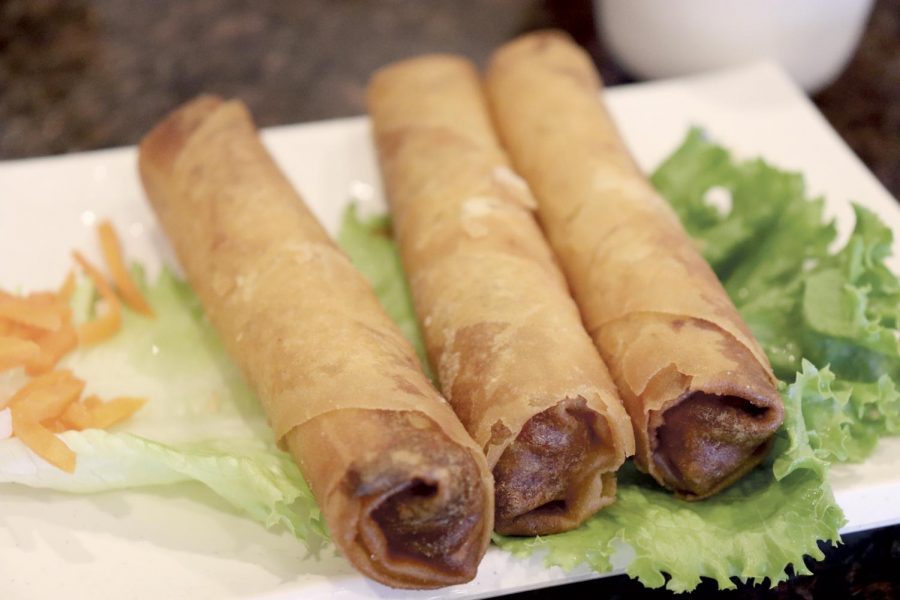 Food review: Pho Lee Hoa Phat
Pho Lee Hoa Phat is a Vietnamese restaurant located at 140 E. Leland road in Pittsburg, CA. 
October 24, 2018
Dale Satre, "4 stars out of 5"
As the son of a Vietnamese mother, I grew up with pho, which is a beef broth soup with rice noodles, steak and other meats, completed with herbs mixed inside. I won't argue there's nothing like the taste of home cooking, but Pho Lee Hoa Phat comes pretty damn close. This is where you go for authentic Vietnamese restaurant experience (which means minimal service).
We walked in for lunch to a bustling crowd inside. The waitress brought an appetizer of very hot and crunchy fried eggrolls and served hot Lipton tea. I ordered a large combination pho bowl, which comes with meatballs, steak, tendon and other meats, which arrived in a reasonable time of about ten minutes.
The presentation was simple, but the broth was delicious and rich, tasting of slow cooking for hours beforehand. They were generous with the toppings and meats, and I could taste that they didn't cut corners with the pho. It reminded me not only of my childhood, but also of the food I had travelling in Asia.
The one star off comes from their men's restroom. It could use some renovating, but that doesn't speak for the quality of the food.
For a $10 bowl of deliciousness, I'll be here again soon enough.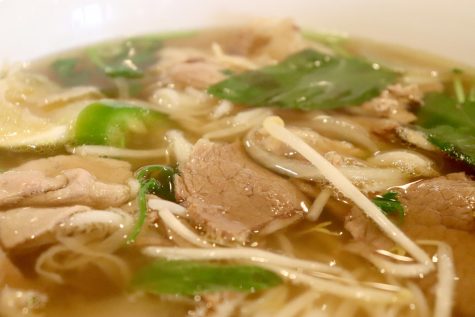 Perry Continente, "3 stars out of 5"
Pho is a type of food I am largely unfamiliar with. I have tried Pho only a few times so understand that my review of Pho Lee Hoa Phat is largely from an outsider's perspective.
The interior has cafeteria style seating with no frills attached. I appreciated that there was nothing between me and the soup, as the restaurant is streamlined and eliminates anything distracting from the food.
I started my lunch with egg rolls that were crisp, hot and clearly recently fried. This was a big plus as many places treat egg rolls as an afterthought, Pho Lee Hoa Phat clearly puts pride in their rolls. The price was excellent too, costing around $10 for a filling lunch.
While I did enjoy the Pho, which came with cilantro, mint and jalapenos on the side, there were elements I was less than fond of. There were textural elements of the beef tendon and beef tripe I did not love. They were too soft and squishy but somehow at the same time too stringy. This was my first time having these so they could be an acquired taste, but my experience with these elements of pho was largely negative. Overall I had a good time at Pho Lee Hoa Phat, but will be more careful with my ordering in the future.
Robert Pierce,"3 stars out of 5″
Pho is very satisfying dish this time of year, when temperatures are starting to subtly drop. Pho Lee Hoa Phat is very close to the Los Medanos College campus, and is a great option for anyone wanting to grab a bowl between classes.
I ordered a combination bowl with several types of beef. The broth was a little bland compared to some other restaurants, but the meats were the high note of the dish. They were all very tender, juicy and pungent and worked well with the other elements of the soup. I had the medium version of the meal, which costed about $7 and was big enough to warrant a to-go cup, and was overall a great value.
The restaurant itself was very nicely decorated and had all the trappings of a great pho kitchen, with plates of herbs and chili sauces provided with the meals to allow diners to season their meals to taste and subtly sweet hot tea that complimented the salty and spicy elements of the soup very well.
I personally have had better pho elsewhere, but I would call Pho Lee Hoa Phat a very, very solid option for fans of pho, especially for its convenience for students here.