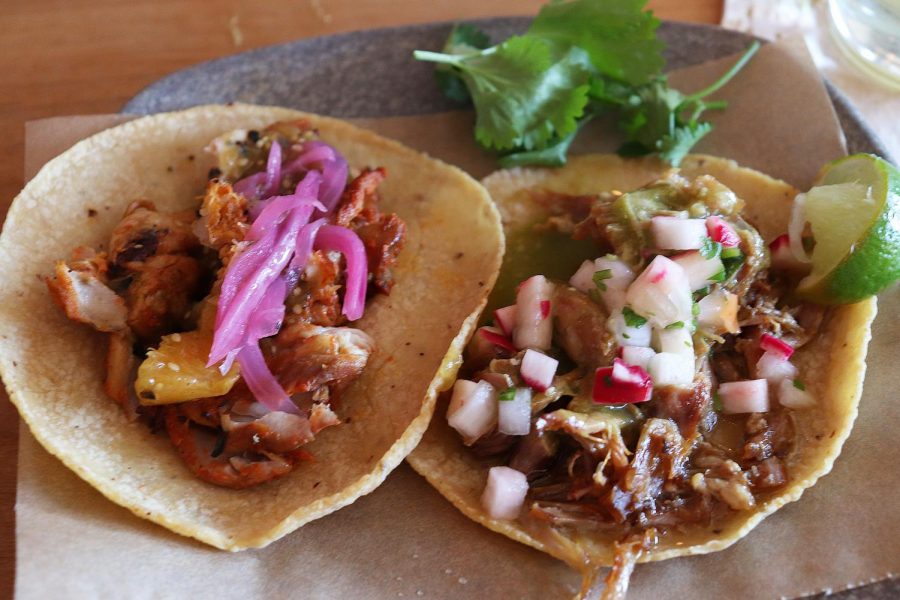 Food review: Nido Kitchen and Bar
Nido Kitchen and Bar is a Mexican restaurant located at 444 Oak Street, Oakland. They are known for their modern twist on classic Mexican cuisine and their extensive mezcal menu.
September 27, 2018
Perry Continente, "4 Stars out of 5"
Nido's modern spin on classic Mexican food can be a colorful and oddly nostalgic experience, and usually is, but the occasional blunder mars this otherwise exemplary restaurant. The taco happy hour is one of the best deals in town with three dollar tacos that go above and beyond the call of duty with ingredients like pickled onions and house made salsa verde in addition to the boldly spiced meats. The tortillas, served corn only, (as it should be,) are also a standout adding structure and texture. Made in house, they elevate their already prestigious contents to make something truly beautiful. Each flavor following the next in carefully curated waves of deliciousness.
This in addition to the fantastic chips, salsa and guacamole, (also all home made,) and the stupendous six dollar mezcal margaritas makes happy hour an unmissable event.
While happy hour was fantastic, dinner left something to be desired. Pork tacos for dinner were a far cry from the nirvana that was happy hour. The meat inexplicably came with a skewer through the chunks of pork needlessly complicating the inherent simplicity of tacos. The meat itself was also dry and unappetizing, the bold flavors giving way to boring and bland meat. Add to that a weak scattering of lettuce and you have a recipe for a disappointing dish. The carnitas came as an over complicated structure topped with pig cheek and chicharones. The cheek was slimy which contrasted with the dry carnitas but neither texture was appealing leading to a confused, bland mess.
Overall, Nido is a fantastic experience. Despite its misstep at dinner, coming for lunch or happy hour is highly recommended.
Jesus Cano, "3 Stars out of 5"
If I were to die this month, I would be satisfied because I got to try a Nido taco.
I say this because they have the best tortilla around, which is key in a taco.
It doesn't matter how well cooked the meat can be, because if you have a bland tortilla, that's all it is, cooked meat.
A good tortilla isn't one made in a warehouse for rapid production to put on the shelves of your local supermarket. It's one that is handcrafted, and presented with such good texture.
At Nido, they make their own tortillas, in addition to their salsa and chips. As a consumer, it gives the impression that this establishment really puts in effort into pleasing its customers. And for three dollars a taco during its happy hour, it is a good hot spot for lunch if you're in Oakland.
Dinner, on the other hand, was a bit disappointing. I've had better carnitas cooked in a relatives' kitchen, though they were solid. For $25, I would not say it lived up to its value.
Growing up in a Mexican household, I was privileged to try all different types of dishes from my Motherland. But who knew that the best tortilla was located in Oakland?
A.R. Broom, "4 Stars out of 5"
Out of everything, the tacos are really what you want to go to Nido for, especially during happy hour. Tacos are $3 each and on every level they are fantastic. It's not often that you can find an authentic taco with a single, housemaid tortilla capable of holding up the mass and juices, oh the juices, of the taco.
I even called one of the servers back to get me another tortilla so I could sop up the juices of the Guisado and Carnitas tacos — which might have been the deliciously smoky sweet limey and salty $6 mezcal margarita talking through me. The combinations of the salsas, verde and roja, with the carnitas and beef respectively paired with the accoutrements radish, cilantro and pickled onions created waves of flavor accompanied by smooth transitions and a silky fatty finish with the fresh corn tortilla shining the entire way. I could spend my entire next paycheck there, especially if I miss happy hour, because dinner tends to be rather pricey.
On my second visit I shared some interesting, yet underwhelming dishes, but the green chile vodka, strawberry and egg white foam cocktail known as Continuity opened my eyes to another level of mixology. Nido is wholly Oakland on the inside, and definitely worth a visit if you find yourself in the area.