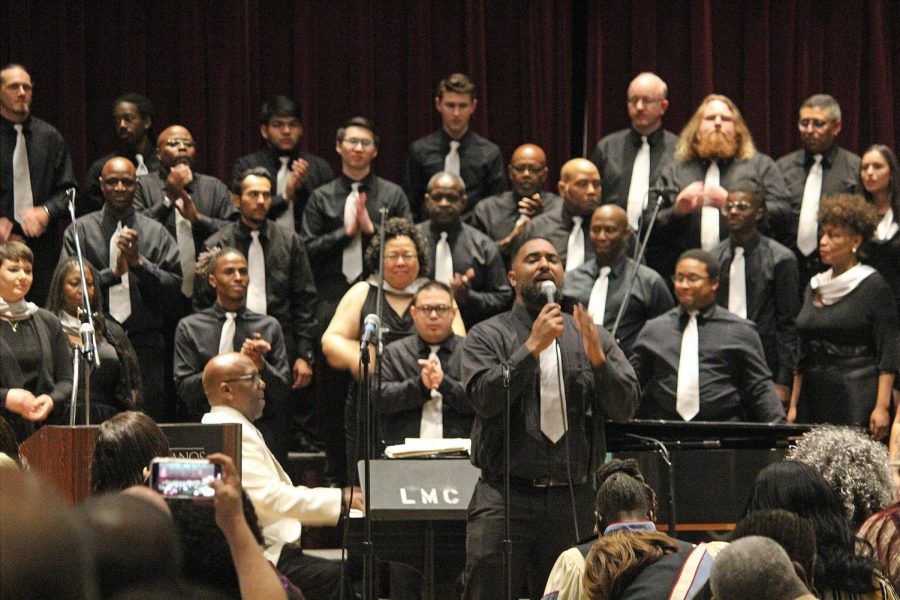 Photo taken by Lilly Montero
When it comes to the performing arts, honoring one's legacy is vital to creating an inclusive and accepting environment. The LMC Division of Vocal and Choral Activities plans on exploring the concept of "Honoring our Legacy" in the upcoming 26th Annual Gospel Celebration Concert on Saturday May 1st for the first time virtually.
"The concert is a long standing tradition at LMC that works to bring community members together and celebrate the performers and legacy of the annual event," said Professor Silvester Carl Henderson, the director of the concert.
"The goal of this event is to use African American Gospel Music as a creative construct to support the work of equity, diversity and inclusion while supporting a nation of unity, collaboration and coming together," said Henderson.
The event will be hosting a wide array of performers including the LMC Gospel Caravans, the UC Berkeley's Young Inspiration Gospel Choir, the LMC Chamber Chorale, Casey and Erica Pringle and an LMC Selected Local Celebrity Soloist. Along with these performers, the concert will host special guest Kyla Jade, a former contestant on "The Voice", and guest speaker Jeffrey O.G. Ogbar, from the University of Connecticut.
A choir concert is typically a physical performance, with the group of singers standing close together to produce the best atmosphere and sound. However, it's difficult to recreate this exact dynamic when social distancing is involved, so the LMC Gospel Choir moved to an online format.
"As a Professor of Choral and Vocal Music, the COVID environment forced me to expand and re-envision my instructional delivery," said Henderson. "I now remain grateful for all of the knowledge that I have gained via the online platform."
Along with instructors, students adapted smoothly into the new environment.
"In preparing for the concert it really involved a lot of listening to the selections and rehearsing the parts," said Jeffrey Scott, a student vocalist for the LMC Gospel Choir. "I was able to set certain times of the day when I could have practice as though I were in the classroom only concentrating on the selections without interruptions."
With the new setting and practicing methods there have been a few obstacles for the students to overcome.
"It was different of course not being together, but it was non-difficult. My experience has been awesome," said student vocalist Beverly Dargan. "We were together on Zoom although not together."
For Brittany Chellsen, a first-semester choir student at LMC, online instruction has been a blessing in disguise.
"It definitely has been interesting and hads its challenges, yet it has provided a way for me to be a part of something I wouldn't have been able to as easily be a part of had we not been in this pandemic and not had the option to be online," said Chellsen.
Though many changes were involved when putting together this year's Gospel Celebration Concert, the choir promises that no quality was compromised with these changes. Many involved are anticipating the event, excited to finally perform after a long year without singing to an audience.
"My favorite aspect of being in the choir is the final presentation, the concert. That allows us to see all of the hard work that was put in as we prepared be experienced by those that are hearing us. It lets us know that all that was done was worth it," said Scott.
Within the choir, Chellsen says she has broadened her "horizons" musically and has led her to meet new music-loving friends and colleagues. She stresses that the performing arts is vital today.
"It brings society joy and reminds us to slow down and enjoy the beauty of life," she said.
The concert will open at 6:15 p.m. with free admission and begin performances at 7 p.m.. To join the zoom call, click here.