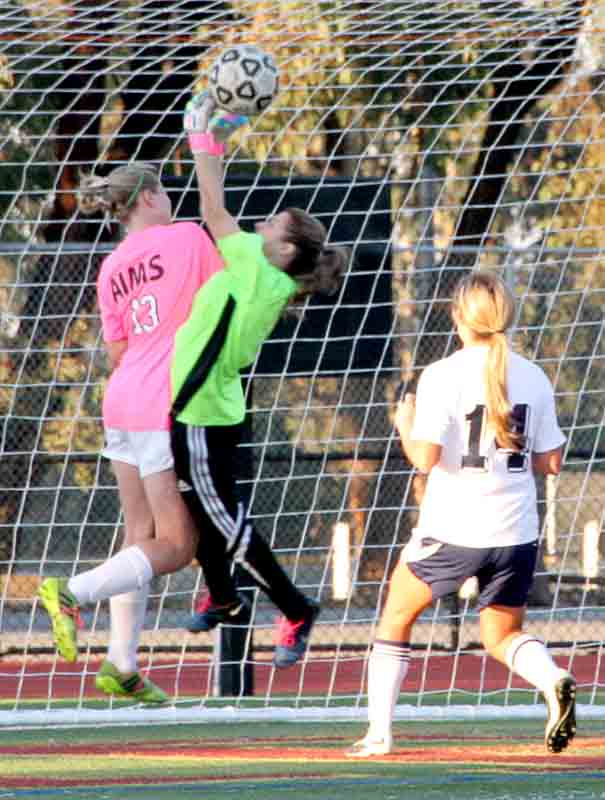 Cathie Lawrence
LMC soccer recognized "Breast Cancer Awareness Month" and outgoing sophomores before the final home game of the season on Thursday, Nov. 6, as the Stangs fell in the game to Yuba by a score of 2-0.
Players donned self-made custom pink jerseys that bore their nicknames along with pink shoelaces supplied by the school to commemorate the event.
In addition to wearing pink, the team honored the mother of defensive sweeper Lauren Ayers, Linda Ayers, who is battling the disease, by presenting her with a bouquet of pink roses prior to the start of the game.
Five other sophomore players were honored along with Ayers' mother as well.
"We celebrated our second year players at the beginning of the game with a little introduction about each and a rose," head coach Mark Bryant said. "The six players recognized were Lauren Ayers, Cecilia Chavez, Alicia Rickli and Angela Hartwick as second year players. The twins, Brianna and Mikayla Farber were also recognized as sophomores – they red shirted last season."
With the pomp and circumstance out of the way, there was still a game to play.
The Mustangs held the Yuba College 49ers scoreless in the first half, but couldn't stop Erika Linch in the second half. Linch scoring is no surprise as she is third in the state in scoring.
"Both goals were from a very good player and were probably the best goals scored on us all season," Bryant said. "This player (Linch) made the difference in the game. It was a very close and hard-fought game."
While Linch was the story of the game for the 49ers, the story for the Mustangs was yet another injury when Ayers went down and had to be helped off the field.
Ayers had already injured the knee a few weeks earlier when she knocked the kneecap out of place. Because of the injury, Ayers could not fully bend her knee, but nonetheless wanted to finish out the rest of her sophomore season.
"I went to slide for the ball and landed with my knee completely bent underneath me," she said. "It was really painful. When it happened I was very disappointed because I didn't want to have to sit on the bench for the end of my last game at LMC."
Ayers will require surgery to fix the damage after the season, but she talked the coaching and athletic staff into letting get back on the field for the end of her final game at home.
With a sour taste in their mouths, the Stangs went into their last game of the season on the road against Solano College. The match ended with a 1-1 tie giving the Mustangs a final record of 6-10-1, 3-4-1 in conference.
The six wins are four more than they had in the 2013 season.