The hidden pleasures of a pandemic
Disclaimer: the views, thoughts, and opinions expressed in the text belong solely to the author. I understand that my experiences are not representative of most people who've been impacted by COVID-19. What follows are simply observations of how my life has been impacted by the pandemic — if a bit optimistic.
Gone are the days of hastily made scrambled eggs, rushed brushed teeth and one foot out the door with another still putting on a sock. Because I no longer need to leave my house for much of anything, I'm left with more free time to decompress and reflect on what really matters to me. Quality time, in other words.
This quality time has been at the core of my experience in recent weeks; it's made the ongoing pandemic remarkably good for me. With work and school moving online, I've had more leisure time, been able to bond with family members, picked up new hobbies and learned things about myself I might not have known if a global crisis hadn't come along and said, "Your life is going to change now."
I'd like to preface my bright-eyed observations by disclosing that I'm fortunate enough to live in a stable household in a community with good infrastructure, and I have access to a healthy network of friends and family. My life with COVID-19 is far from representative of much of the world; especially those in rougher economic situations in every society, who do not have the same luxuries of space, financial stability or even food on the table. That said, I'd still like to bring forth the light in my experience, as I think any semblance of positivity can do little harm during this time.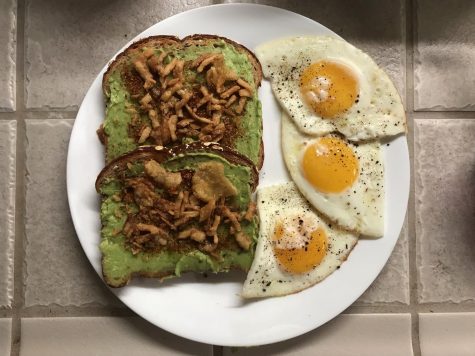 When an entire world's routine is thrown up in the air, I think people are left to see what's been around them all along. For me, it began with putting a little more thought into my breakfast. Try out that suggestion from a friend to add salt in my avocado. Seek out some pointers from my parents about how not to overcook my yolks. And importantly, take the time to just enjoy my food.
The biggest free-up of said time has come as a result of my transition to online education. Taking classes in the comfort of my bedroom has negated the time I'd normally spend commuting to and from school and staying on campus. Because of those new gaps in my days, I've had more time to just hang out and be. Sometimes I lounge in my backyard. Sometimes I surf the web for interesting articles to read or talk to friends.
Some might wonder, "Wouldn't you get bored with all that free time on your hands?" Yes, I do. But that's not a bad thing. In fact, that's a great thing. Boredom is a profound idea, almost a ghost of generations past, all but avoided by today's youth. Often written off as a source of mischief and plugged with iPads and videogames, boredom is a powerful tool which can incite creativity and encourage mindfulness of the activities one chooses to engage in.
When I'm listlessly rocking in the doldrums of the day, ideas spring to the mind, like pulling out that old bike hanging in the garage my mom has had since the 80s, or trying my hand at cooking new recipes (which is a huge accomplishment, given that my signature dish has been a plate of tough scrambled eggs.)
Before the pandemic, I had no idea how much I would enjoy fixing up a bike, or how rewarding it might be to learn how to make banana bread with my mom.
And that leads me to another silver lining of this quarantine: I've enjoyed more time with family. Between classes, I might hang around with my family members, whereas in days past, these moments would have seen me sadly biding my time on Reddit or Instagram. Not only have I had more time with family, but I've also felt a greater connection and gratefulness to them.
A hallmark of the human experience, hard times tend to bring people together, often in recognition of the fragility of life and that everything can change forever in a moment. In understanding of the current transience of life, I've cherished the brief slices of time I have with the ones I love.
In short, because the COVID-19 virus has slowed life down to a snail's pace, I've learned to appreciate the finer details in my days — which are conversely the most important ones — and I'm thankful for what's been illuminated.
Despite my positivity, I do ask myself what will happen once my backlog of exciting activities and new skills depletes. I wonder what life will look once the pandemic directly impacts my own — Because it will. And in some ways it already has. For example, I don't know if I will be transferring to a four-year college in the fall, having spent the past few years planning out my higher education pathway to make it there.
My answer to that question is that I don't know. In fact, there's no way to know what to expect next when you're living in a nation besieged by a pandemic that can hardly be tracked at the speed it's spreading, and when so many states seem to be at odds in their methods of handling it.
But for now, I know that I'm able to enjoy the smaller moments in my home life, and I'm seeing pieces of myself I never knew existed. That self-discovery is a good thing, and it's something one should be grateful for amidst a global crisis tearing apart the lives of so many. I'm glad I'm able to recognize these hidden pleasures, and I hope others are able to experience silver linings of their own.