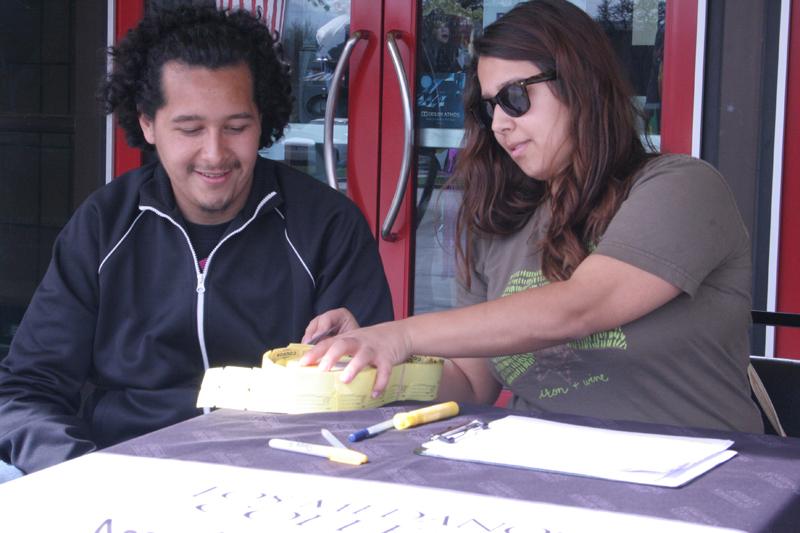 Cathie Lawrence
Celebrating the end of Black History Month, Los Medanos College's Student Life sponsored a screening of the movie "Race."
A group of about thirty students entered the lobby of Pittsburg's Maya Cinema to see the true story of Olympic legend Jesse Owens Feb. 26.
Interim-Student Life Coordinator Joel Nickelson-Shanks said sixty-one students signed up for the event, but only thirty attended. He also noted that he enjoyed the movie, and Student Life will continue to produce more events like this in the future.
Students, faculty and staff checked in at 11:30 a.m., received a ticket for a free popcorn and drink tray and headed to Auditorium 9 to be seated. Students chatted among themselves as the previews showed and quieted down once the movie began.
The film drew gasps, laughs and applause throughout its running time. Some even talked back to the screen, identifying with the characters. After the movie was over, everyone made their way out of the movie theater.
There was barely any chatter in the lobby after, but student Erika Pree shared her feelings on the film.
"I felt the movie was empowering" Pree said. "It taught me to never give up whenever an obstacle comes your way."
The film tells the story of Jesse Owens (played by Stephan James), who becomes a track and field sensation at Ohio State under the guidance of coach Larry Snyder, played by Saturday Night Live alum Jason Sudeikis. Owens is then pressured to both boycott and compete in the 1936 Berlin Olympics by those who wanted to protest racial issues in the United States and those who wanted to show American superiority in Nazi Germany.
Since it was Black History Month, Pree thought it was an appropriate time to see "Race." "It will give us encouragement," Pree said, "To keep on going in our endeavors."