Finding yourself: Insight from Roseann Erwin
The LMC librarian has a passion for books and helping those around her.
Roseann Erwin's love of libraries began as a child, as a place to escape a crowded home, and developed into a lifelong passion.
"When you're the youngest, it's hard to find your own space or feel like anything is your own," said LMC's Brentwood and Distance Education librarian, who is the youngest of five children. "I liked the library because it was a quiet place to disappear."
Erwin grew up in Orange County and despite the fact she spent much of her childhood in the library reading books, becoming a librarian wasn't something she originally considered as a career. But her thirst for knowledge eventually propelled her on that journey.
Her biggest influence growing up was her aunt Kay, who she considers a second mom. Her aunt did not have the opportunity to go to college herself, Erwin explained, because she had to work as a payroll clerk to help put her brother through college. But Kay had a passion for books and learning and passed that on to Erwin, who said she decided to take advantage of the opportunity for a college education that her aunt did not have. 
"She always encouraged me to think critically, question authority, and do what I love," she said.
After graduating high school, Erwin enrolled at Orange Coast College and transferred to California State University, Monterey Bay where she earned a bachelors' degree in humanities and communications. Later, she worked at a textbook publishing company as a writer and editor. During her time there, she discovered a love of research. 
"When I was writing," she said, "the research part was always interesting."
That interest led her to begin volunteering at her local library.
Erwin made the decision to become a librarian, she said, shortly after her boyfriend at the time told her she "read too much." 
"I had to negotiate with him a minimum amount of time every day that I was allowed to read," she said. "That was one of the moments when I realized that books are an important part of my life."
That moment, and her experience as a library volunteer, led her to San Jose State University where she got her master's in library and information studies. 
Erwin got her first library job at Monterey Peninsula College and then began working at LMC in 2015. Erwin was hired to coordinate the Library Learning Center. In that capacity, she teaches students how to do research for homework, projects and assignments.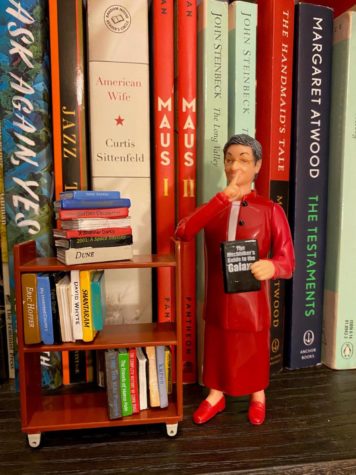 Erwin describes herself as someone who enjoys being of service to others. Erwin has a passion for connecting people with books and finds joy in knowing she's done that. 
"If I can connect people with what they need, I feel like that's my main role and I've done my job".  
Before the new Brentwood center opened this semester, the LMC satellite center didn't have a library space on campus. That made it difficult for librarians to help students with books as tools. Erwin decided to bring about 20 to 30 books from the Pittsburg campus to help with student projects to interest them in reading.
While the new Brentwood center is open, its Library Learning Center is not. It will be a browsing location of about 500 books of general works students might find entertaining as well as research books to help them with assignments. It was scheduled to open in August but due to a flood, the opening got delayed until later this semester. 
But whether she is at the Brentwood Center or the main Pittsburg campus, colleagues find Erwin a kind soul to students and staff alike and said she is always ready to try new things.
Head librarian Christine Goff said it was inspiring to see how Erwin worked to connect with faculty and students during the pandemic, adding "I admire her approach to online teaching."
"
Because there are so many technological things out there that take up our time and attention, it is important to put books in front of people."
— Roseann Erwin
Now that some classes are moving back on campus, Erwin said she is excited to begin reconnecting with students face-to-face.
"Roseann takes on extra projects and creates programming for the library that is new and fun, like poetry month events and poem exchanges and information literacy lectures and games," said Catt Wood, senior library technician.
But books are still her first love and Erwin finds it especially crucial these days to promote their cultural importance.
"Because there are so many technological things out there that take up our time and attention, it is important to put books in front of people," she said.