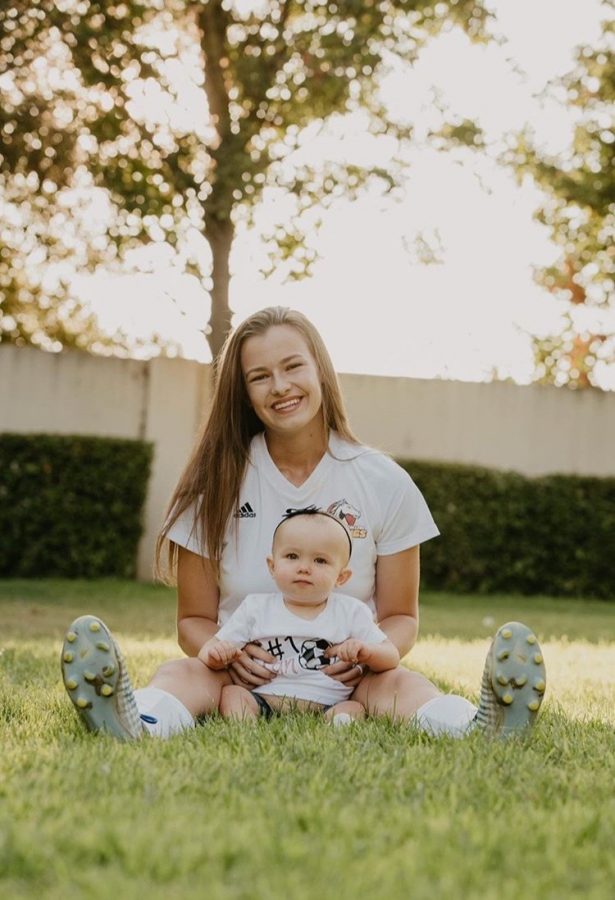 Courtesy of Carissa Day
Carissa Day's life took an unexpected turn when in her junior year of high school she found out she was pregnant with her first child, Reese Everleigh Treff. Reese was unplanned, but ultimately a blessing in Day's life.
Though things have taken a different path than she'd imagined, life is good. Day has a partner who's supportive and works with her to create the best dynamic for their daughter.
Tyler Treff, Day's fiancé and Reese's father, not only works full-time but is also a full-time student here at Los Medanos College. The pair have been dating since middle school and will tie the knot next spring.
"I've been extremely blessed with the support system that we have," Day added.
With her family and fiancé behind her, the 18-year-old graduated high school early, and is now taking care of Reese, going to college full-time and playing soccer for LMC. It's taken a village, dedication and focus but Day has found that it's manageable.
People who go through unplanned pregnancies,"tend to think that they can't accomplish the things that they want to or they can't do the things that they want for themselves," Day said, "but to give your child your all you have to give to yourself as well."
Day's focus on her goals is something that's clear both on and off the field. As a teammate she is competitive and inspiring.
The freshman forward leads the LMC soccer team in goals with six and has made a handful of assists throughout the Mustangs' impressive season that have helped turn many games in their favor.
"She's huge and even in the games where she doesn't score she poses such a threat that it kind of helps the team and other players be successful," said head coach Zach Sullivan.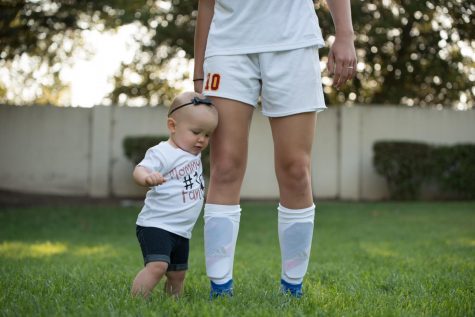 The soccer player, in spite of occasional scheduling conflicts, has been a valuable addition to the team, said Sullivan.
He and her teammates were impressed when 10 days after an injury they feared might prevent her from continuing the season, she got back on the field with a fierceness, recording an assist in her first game back in LMC's 1-0 win over Yuba College Oct. 16.
"She's tough, but after you give birth to a baby soccer's nothing," Sullivan joked.
On the other hand as a student, mother and a person she is driven and constantly considering options for her future. Before she had Reese, Day had planned to go into the army and criminal justice, both she is still considering doing now.
Though she's working on her general education, Day admitted, "I always wanted to join the military and that's something that's still a possibility."
She hopes to follow in her grandfather's footsteps. He went into the military and later applied the experience in his career as a police officer.
"It's a job that makes a difference… it's a selfless job," Day said.
Being selfless is something the young mother has learned in taking care of her daughter among other things.
"She's definitely taught me a lot," Day said. "She's taught me the responsibility of having to worry about somebody other than myself."
Day has had to grow up a lot faster than others. There are times when it really hits her that she's not like other people her age. While others are going out and pulling late, reckless nights, Day has to consider first what's best Reese.
She's managed to keep all of her friends as they've all been supportive and accepting, however, she often finds herself connecting to older people who can relate to the responsibility. On the whole motherhood has been one of the most rewarding experiences for Day.
"Being a mom is the hardest work that you do, but it's work that you love doing," Day said. "It's work that I enjoy having. It's a blessing."
For now, Day is just focused on being a good mother, fiancé and teammate. Whatever the future holds, she won't sell herself short and encourages other young or unprepared mothers to do the same.
"Have confidence in yourself," said Day, "you're able to do more than you think."