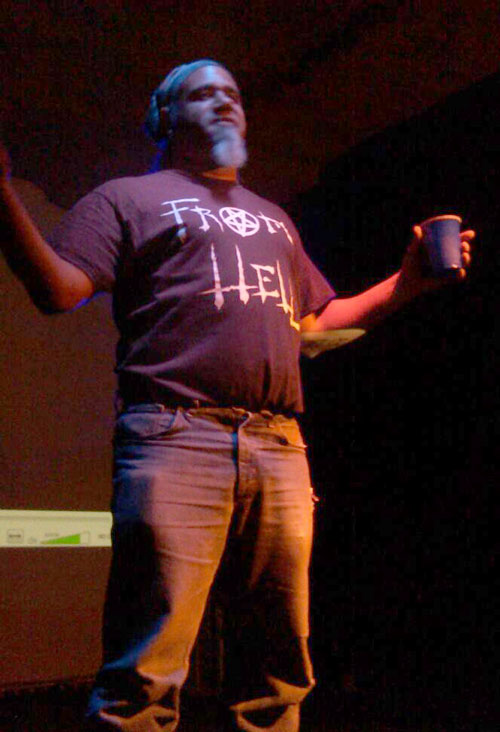 Damian Lewin
Cheers and applause erupted as the lights dimmed and the first track From Hell's new release "Ascent From Hell" began playing at the Shrouded Monkey Lounge for the band's private CD listening party inside Oakland Music Complex April 11.
"Thank you everyone so much for coming out tonight," said George Anderson, front man and founder of the group as he stood on stage before a group of friends and piers from the bay area music scene. "Enjoy."
"I think the album is really good," said Jeremy Von Epp, guitarist for the bands the Venting Machine and BlackGates. "It's heavy, it's like the heaviest thing that I've heard in a long time."
In a band with Paul Bostaph, who played drums on this record, Von Epp added, "I wanted to come out and hear it. I loved it." As the CD played on through its 12-track entirety the crowd listened as well as conversed with each other, taking periodic trips to the back of the room where the lounge had provided free refreshments. Drake's IPA on tap and chips with salsa labeled "kinda hot" were among the favorites. Those with a sweet tooth indulged with cookie's frosted with a pentagram to commemorate the event.
"Sick!" shouted a voice from a corner of the room. "That's so heavy," commented another. The overall support for Anderson's project was definitely observed in the crowd, this "community" that gathered to celebrate the premiere of the CD.
"Very stoked of all the local guys who came out to support," said Anderson. "These guys are my piers so it means a lot when they come to check it out, and to hear their opinions is very cool." One of the people he hadn't seen in a long time, he said, was John Riggs, who was well known through the local music scene for his skill as a drummer and percussionist. Anderson worked with him in his previous band Down Factor, recording the drums for the 2001 release "Pure."
"This CD was rad," said Riggs, "I think my favorite song was the title track Ascent From Hell. It has an awesome groove that makes it super heavy."
"It was awesome to see how supportive and into it people were," said Shantel Gahr who lent her voice for one of the thematic segments of the CD and has shared the stage with Anderson as a "zombie dancer" for live band performances.
"There were people of all ages from the scene," she said, "and I really liked seeing that." Overall, the listening party "was a blast," said Anderson. With so much support from the local music scene, as well as the global attention the CD is already getting, it just might be the release Anderson was hoping for.
"George has been doing this for a long time, he knows what he is doing," said Von Epp. "He just wants to have fun, and go for broke, and I think that he really did that. Obviously with the cats he has on his record, he is definitely gonna gain some notoriety more so than the average band out there."
"Ascent From Hell" is available now world wide through Scourge Records and can be purchased for $12 through the band's website fromhell.net.